Taipei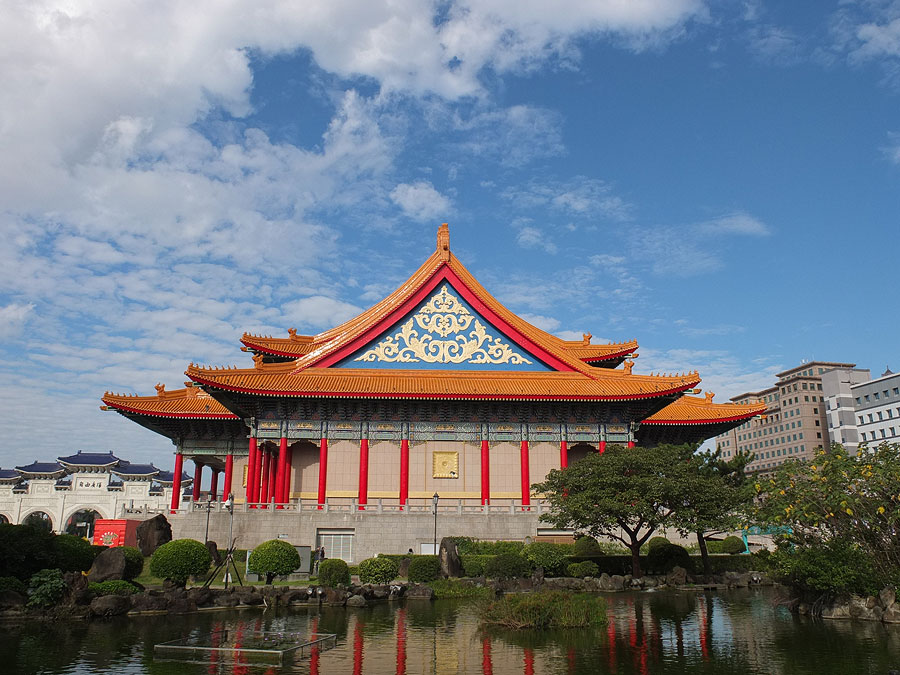 After a great time visiting Hong Kong we flew to Taipei on Eva Air. We are always amazed at the service on international flights compared to domestic flights in the U.S. Our flight on Eva Air was only an hour and a half, it was on a 747, and they served a meal! We can barely get peanuts and a drink on much smaller planes in the U.S. When we arrived at the airport we had planned on getting money at an ATM and we got really nervous when I went to take cash out and the ATM wasn't working. We had very little cash on us and the Taipei airport is not huge so we were worried there wasn't another ATM. I kept thinking we were going to be trapped in the airport. Luckily there was another ATM and it worked! Lesson learned…always carry enough cash for an emergency.
While Taipei is a large city it does not seem to have as many U.S. hotels to stay at as other large cities, so we used some airline points to stay at the Fullon Hotel. We usually like to stay at either a Hilton or Marriott so we can either earn or use points, plus we have earned enough points at Hilton so we get access to their executive lounge, which is a nice bonus! We had an even harder time finding places to eat in Taipei than Hong Kong. The Fullon Hotel was average and seemed a little old and run down, but the staff was nice and it was clean.
While Hong Kong and Taipei are very similar one of the big differences in Taipei is that there were no skyscrapers, except for one, the Taipei 101. This may be because there are more earthquakes in Taipei. In the hotel there was the typical sign at the elevator warning people not to use the elevator in a fire, but with the addition of the word "earthquakes." Taipei also seemed like a very green city; streets are lined with trees and there are a lot of parks, which made it very enjoyable when walking around the city.Scooters are everywhere! That seems to be the preferred method of transportation. Traffic already seems bad, so if all the people on scooters were driving cars it would be horrendous. Scooters make it easy to weave in and out of traffic, plus they seem to go to the front of the line at traffic lights. There is even a "box" outlined on the pavement where they are supposed to wait.
The first thing we wanted to see was Taipei 101 and take a ride up to the observatory. Unfortunately the outdoor observatory was closed as they were getting ready for New Year's celebrations, but we still had great views of Taipei from inside. Taipei 101 used to be the tallest building in the world until the Burj Khalifa opened a few years ago.We made it to the Sun Yat-sen Memorial Hall just in time to see the changing of the guards. While not as spectacular as the changing of the guards at Buckingham Palace (I'm not sure anything can beat that), it was still interesting to see. We also stumbled upon a marching band at the National Chiang Kai-shek Memorial Hall.Our second and last day in Taipei was the best weather we had the entire trip, we finally saw some blue sky. We walked to the Longshan Temple which was amazing and definitely worth a visit. It was very crowded with worshipers and it was so interesting to see the historic building which was built in the 1700's. The temples we visited yesterday were fairly new.
Yesterday when I was looking at the map, there was a listing for the "Modern Toilet Restaurant" which I thought was either a typo or a bad translation! Since we were in that area we decided to try to find it and our scavenger hunt was successful. We almost missed it because it was closed, but thankfully Google Maps on my smartphone was able to help us find it. It really was the Modern Toilet Restaurant! Apparently the chairs are toilets and the dishes they use are shaped like toilets. Doesn't sound very appealing to us, lol.
While our flights to Hong Kong and Taipei were great, our flights home were another matter. The intercom system wasn't working correctly on our flight from Tokyo to JFK, so after boarding the plane and trying to fix the problem they decided to move us to another 747. It's hard to believe that they were not only going to move all the passengers, but the luggage and cargo in an hour and half, but they did! We had a long layover in JFK, so even though we were late we thought we would have enough time to make our connection.You would have thought the two hours we had for our layover in JFK would have given us plenty of time, but having to go through customs, immigration, switch terminals and then go through security again (always a nightmare at JFK), we barely made it. For the second time at JFK our luggage actually came out on a different carousel then everyone else's. Thankfully even in our exhausted state we were able to finally find our bags. It's good to be back in the U.S. to celebrate New Years!
Brendan & Jen {December 2012}