Arches & Canyonland National Parks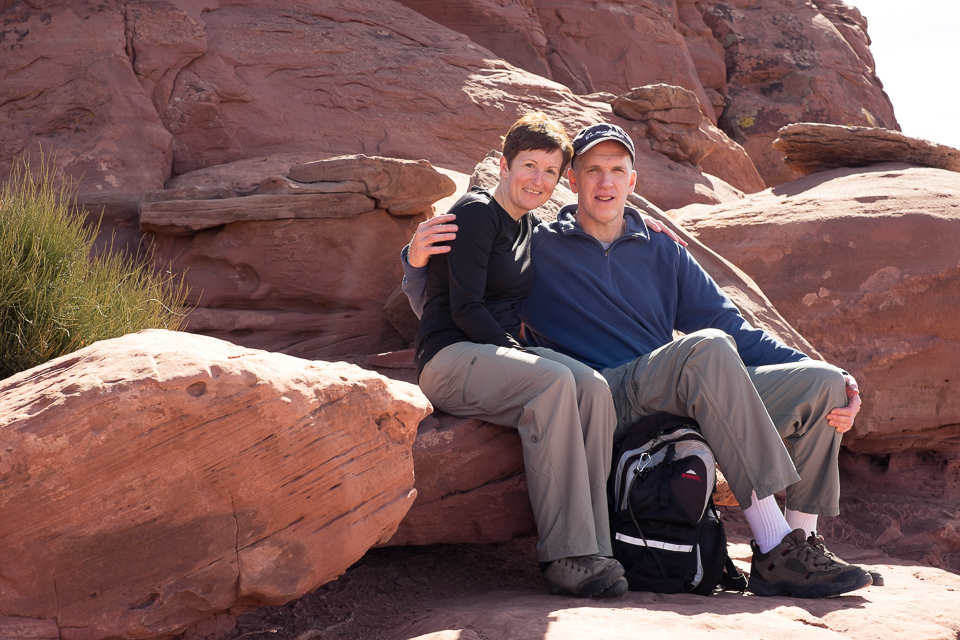 It was so good to get away from all the snow and bitter cold in Maine we have had this winter! This winter the southwest has had a milder winter so we chose a good place to go; bright blue skies, the sun shining and temperatures in the 50's during the day, we were in heaven! We had originally planned to fly out of Portland on Saturday, but when we arrived at the airport Delta was looking for volunteers and offering $1,300 per person to give up their seat. That was too good to pass up, so we ended up flying out of Bangor on Monday morning. This meant we had to cut Zion National Park out of itinerary. It's a long day of travel for us to get to Salt Lake City from Bangor, so instead of driving straight to Moab, we drove to Provo and spent the night there.
We drove into Moab and were struck by how different the landscape is and during our stay there we felt like we were on a different planet. The entrance to Arches National Park is just north of Moab so we stopped there first and bought a national park yearly pass. Most national parks cost $20 for a week long pass, but Arches and Canyonlands are $10 each. A yearly pass is $80 and is such a bargain, especially for us since we live so close to Acadia National Park.
We spent about 2 days in each park which is plenty of time unless you are interested in doing longer, back country hikes. Many of the trails are short, .25 to one mile long. In each park we spent a day driving around and exploring these smaller trails and the second day we spent on a longer trail. Our favorite trail was the Devils Garden in Arches National Park. The trail is a little over 7 miles long and there are a few sections with some rock scrambling/climbing that may be intimidating for some, especially if you have a fear of heights; a couple ahead of us on the trail turned around. The trail is spectacular though, seeing numerous arches including Landscape Arch and Double O Arch.
Canyonlands reminded us a lot of the Grand Canyon, which is actually only about 200 miles away. While the park wasn't too crowded since it was the off-season, the one spot that was the most crowded was Mesa Arch. When you think of both of these parks the two iconic arches are Delicate Arch in Arches National Park (which is on some of the Utah license plates) and Mesa Arch in Canyonlands. Mesa Arch is best viewed at sunrise when the sun peaks through the arch, and Delicate Arch is best viewed in the afternoon with the glow of the afternoon sun. Mesa Arch is an easy hike but Delicate Arch is a little tougher with a steep climb up an exposed rock face, but it is completely worth it. It might be hard to get a picture of it without people though, as this is an extremely popular hike.
Our long hike in Canyonlands turned into a testament of how easy it can be to get turned around and lost in the backcountry. We decided to hike the Neck Spring trail which is about 6 miles, and after some time hiking we began to feel as if we were headed in the wrong direction. Even though we knew we hadn't accidentally gotten on another trail, since it is a single loop trail with no other trails joining it, we still started getting worried. We decided the best thing to do would be to turn around and head back the way we came. When we got back to the parking lot and looked at the map, we realized we had read the map wrong and so when we thought we were headed in the wrong direction, we actually were right on track. We never saw anyone else on the trail and it was better to be safe than sorry, even if we ended up hiking longer. It's definitely worth it to have a good map on any trail!
We had perfect weather while we were there, and we can't imagine being there in the summer with 100+ temperatures, with no shade. There are signs everywhere reminding people to drink at least a gallon of water a day.
Moab is a cute little town, with several new hotels. The town explodes during summer weekends from 5,000 to 20,000 peoples, so I imagine the place can get very crowded. One place that is a must see just outside of Moab is the petroglyphs and dinosaur tracks right along the side of Route 279. Along the road is a cliff face that is popular with rock climbers and just towards the end are the petroglyphs (marked with a sign). A little farther down the road are the dinosaur tracks. The tracks are really hard to find unless you look at the picture that shows where they are located. There is a trail up to the tracks (there are petroglyphs too) but it is hard to spot, just look for the cairns.
It was really hard to leave and go back to the cold and snow, and we are looking forward to coming back to visit Zion and Bryce National Parks.
Jen & Brendan {February 2015}