Auschwitz
Horrified. Devastated. Sadness.
These are just a few of the many emotions we were overwhelmed with on our visit to Auschwitz (World Heritage Site). It is a hard place to visit but is definitely a place that you need to visit if you are in Poland.
Auschwitz is located in the town Oświęcim, about an hour outside of Krakow. One of the things we did not realize is that there are actually two concentration camps that comprise Auschwitz. The smaller, or Auschwitz I is the main site that most people visit and where there are records, personal effects and pictures on display. This is the busier of the two sites and from April through October between the hours of 10-3 all visitors are required to go with a tour group. The site opens at 8am, so if you get there early enough you are free to wander around the camp and visit the displays at your own pace. We arrived around 9am after another "exciting" drive; there is nothing like having a semi truck coming straight at you to really wake you up!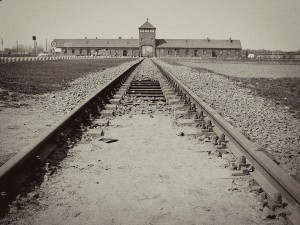 There are many difficult things to see at Auschwitz, from the thousands and thousands of children's shoes, the haunted look in the pictures of prisoners, to the display of women's hair that the Nazi's sold to textile companies.
Walking to Auschwitz II – Birkenau gave us time to reflect and to see the memorials visitors had placed on the railway tracks. The walk takes about 25 minutes, although the lack of signage can make it a little confusing, but there is a free shuttle bus that will take you back and forth if you are not up for the walk.When we arrived we were instantly struck with the massive size of the site. The camp was built to ease congestion at the main site and contained over 300 buildings, with 100,000 prisoners, compared to Auschwitz I which had anywhere from 13,000-20,000 prisoners. Most of the buildings are gone as the Nazi's burned them to the ground before the Soviets liberated the camp, but you can still see the outlines of the buildings with their chimneys rising from the ground. I can only imagine how horrific it was to live in such conditions and in constant fear.
It's hard to believe that there are people capable of such horrific acts and while this is a horrible moment in history I am glad that they have turned this into a memorial and museum so that we never forget and never allow it to happen again.
Auschwitz: Inside the Nazi State
Jen & Brendan {April 2013}