Banff National Park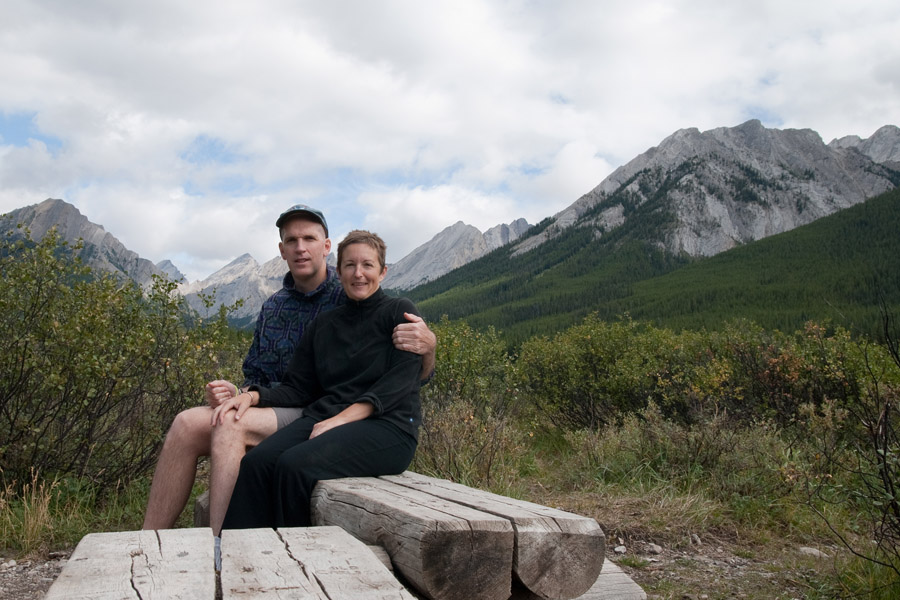 Brendan and I made it to Banff after a long day of traveling. Up at 4 in the morning for a 6:30 flight from Bangor to Atlanta, then Atlanta to Salt Lake City, and then Salt Lake City to Calgary. We finally arrived at 5:30 pm which is really 7:30 our time, and then it was an hour and a half drive to Banff. I'm sure you're wondering why we flew all the way down to Atlanta to get to Calgary way up in western Canada. They were free tickets and of course they never put you on the most direct flights; you can't really complain though when they're free.
The town of Banff is actually located inside Banff National Park which means you have to pay a fee to go there. The Canadian National Parks entrance fees are different than United States National Parks entrance fees. In the U.S. the fee you pay is per vehicle and allows you access for an entire week while Canadian National Parks fees are per person and daily.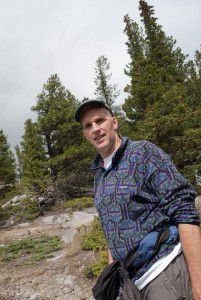 Banff National Park (World Heritage Site) is absolutely breathtaking! We spent our first day just getting the lay of the land in Banff, and recovering from our long day of traveling. We hiked to Bow Falls which is just outside of town and then to the top of Tunnel Mountain which overlooks the town of Banff. I was a little winded from the higher elevation.
Hiking on the second day took us up Sulphur Mountain which is a 3.5 mile (7 mile round trip) hike with an elevation gain of 2,200 feet. Whew!! Banff is at around 5,000 feet elevation so both Brendan and I were pretty winded hiking up, especially in some of the steeper sections. Coming down wasn't easy either, although we weren't winded, but our quads were killing us. After the hike we drove the Tunnel Mountain Road looking for wildlife. There is a beautiful view of Banff Springs Hotel on the drive.
It was a little chilly when we woke up the next day, in the mid 30's, but warmed up quite a bit throughout the day. We finally went outside of the town of Banff to explore the national park and went for a hike in Johnston Canyon. On our drive to the hike we encounter a small traffic jam on the road because of this majestic elk having his morning breakfast. He was not at all concerned with all the cars parked next to him.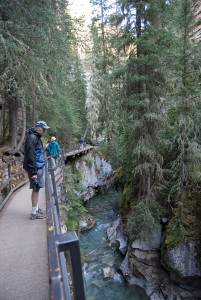 Johnston Canyon is a popular hike in the park, and you know it is going to be crowded when a tour bus pulls into the parking lot! Luckily most people just hike to the lower falls, which is about 1/2 a mile from the parking lot. Some venture on to the upper falls, a mile and half from the parking lot, and very few venture to the ink pots which are 3.5 miles from the parking lot. Brendan and I were searching for solitude so we ventured on to the ink pots, which are cold springs…and they are very cold! But in the winter they never freeze, which I thought was interesting.
After 2 days of strenuous hiking we decided to take a break and drive to Lake Louise which has to be one of the most popular spots in the park. We got there early to try and avoid some of the crowds and did a short hike along the shore of the lake. Lake Louise is known for its beautiful green color which is caused by the glacial silt in the lake. At the far end of the lake is Victoria Glacier, its glacial melt is the source of Lake Louise. The Chateau Lake Louise is also located on the shores of Lake Louise (a little bit out of our price range, $600+ per night).
Brendan and I went on an amazing hike to Bow Glacier Falls off the Icefields Parkway. This hike was much less crowded and took us along the shores of Bow Lake, through a moraine covered in gravel and glacial debris and we got all the way to the bottom of the falls. Although the hike was relatively flat, it was tough because of all the rocks and we ended up hiking about six miles.
Our last day we went on a nice hike to Sundance Canyon right outside of Banff, and had a nice picnic along the shores of the Vermillion Lakes, drove up to Lake Minnewanka and stopped along the way at the remnants of an old coal mine before heading back to Calgary and then home. I know we will be back to Banff!
Jen & Brendan {August 2007}