Beijing and The Great Wall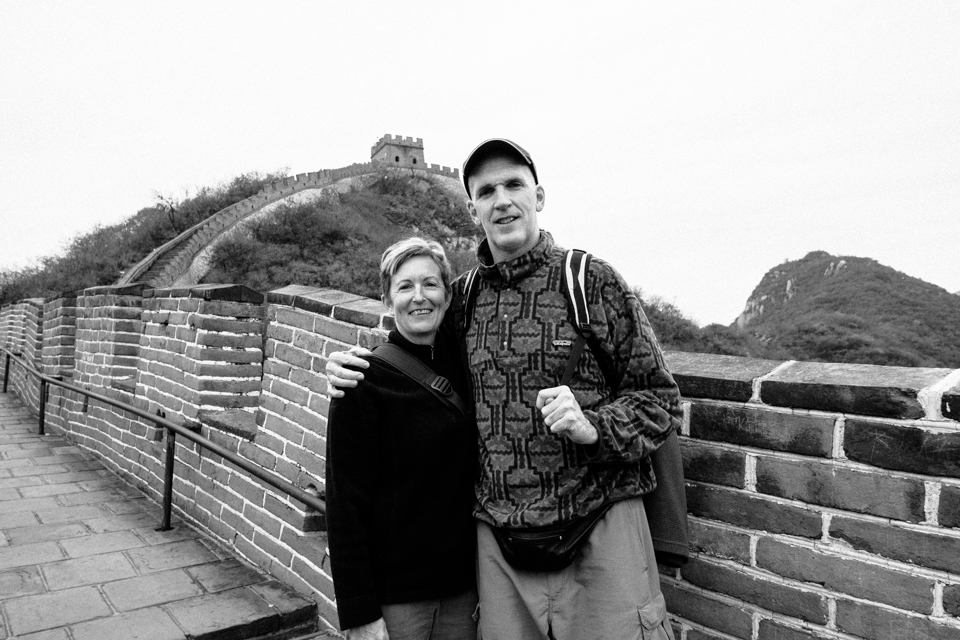 It look a long 2 days to get to Beijing and I was exhausted by the time I got there. I flew from Portland>Detroit>Seattle>Beijing; lots of layovers! Brendan flew out before me to get ready for his workshop, so thankfully he arranged for a driver to pick me up from the airport to take me to the hotel so I didn't have to navigate to find a taxi. The airport was a mob scene and I was thankful that I spotted my driver! It was a surprisingly quick drive from the airport; Beijing traffic is notoriously bad, so Brendan was surprised to see me. I arrived in the evening so it was easy to go to sleep and get on Beijing time, I never seemed to suffer from jet lag until I got home and it's taken me about a week to recover. I think it is much easier to adjust to the time difference traveling west, than it is east. I had 2 days on my own to explore Beijing and the first day I decided to visit the Temple of Heaven. When I woke up it looked like the pollution levels were pretty bad. There are air monitoring stations throughout China and you there are apps you can download to check the air quality throughout the day. The app connects to the closest air monitoring station and provides the air quality level. As you can see, the first day was pretty bad, but thankfully the air improved each day.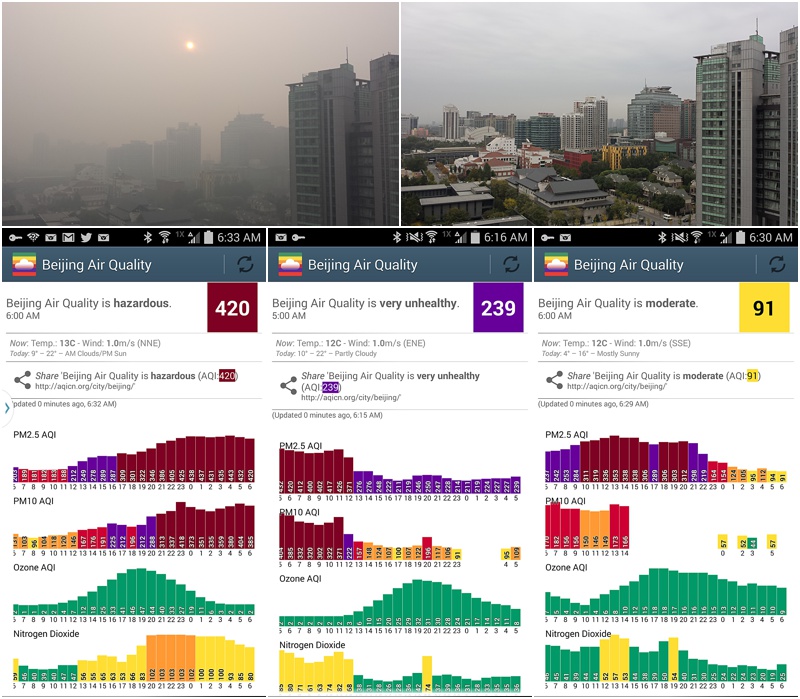 Navigating Beijing is fairly easy even though taxi drivers don't speak english (I always use the map feature on my smart phone to make sure the driver is taking me where I want to go). We stayed at a Hilton and they provide guests with a sheet of paper that has all the popular tourist destinations written in Chinese as well as the hotel address, so that made it really easy. Traffic is mind boggling, but taxis are relatively inexpensive so it's a very convenient way to get around. I didn't get a chance to try the subway, but I read it is really easy to use and cheap, but can be VERY crowded, especially during rush hour; not surprising since there are almost 20 million people. Beijing is vast, so it's not wise to try to walk. I had to wear a mask the first day and I have to say it was tough going, but it was completely worth it. The Temple of Heaven (World Heritage Site) was amazing and there was a beautiful park to walk around. The temple was fairly crowded but the park was very peaceful. You can go in the park without paying, but to see the temple you have to purchase a ticket. There are different sections and each time you enter an area they will tear a stub off your ticket.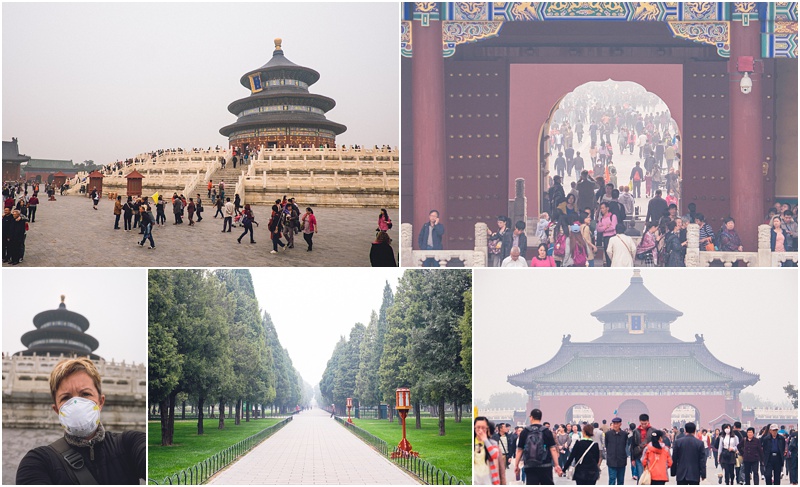 On Monday I decided to visit The Forbidden City and Tiananmen Square. This day didn't go as well as I had hoped. To control crowds there is one place to enter The Forbidden City and one exit on the opposite side. One of the scams you have to watch out for is the taxi driver dropping you off at the exit and since it is a very long walk all the way around to the entrance, there are rickshaws waiting for you that will tell you one price but when you get there will try to charge you more. There a few other scams to watch out for while you are there and this website provides information on some of the more common ones. I was only approached a few times while I was there, but if you just ignore them and walk away they will leave you alone. There are not as persistent as I have found in other countries.
After getting dropped off at the exit I was a little disoriented and it took me awhile to figure out that was what happened. I decided to just walk to the entrance and at first I was a little nervous, but Beijing is relatively safe and I didn't have any problems. As I got closer to the entrance there were a lot more people and I seemed to be walking the opposite way everyone else was going, which I thought was strange. When I finally got to the entrance I was trying to figure out where to go to buy tickets and then came to the realization that The Forbidden City was closed even though the guidebook stated it was open. I then had to figure out how to get to Tiananmen Square which wasn't as easy as you'd think considering they are right next to each other. When I finally got to the entrance I realized there was a huge line to go through security and it took quite awhile to get through it. Mao's Tomb was closed so I don't think the crowds were as bad as they normally are. If you plan on going to both in one day I would definitely go to Tiananmen Square first because that will lead you right into The Forbidden City.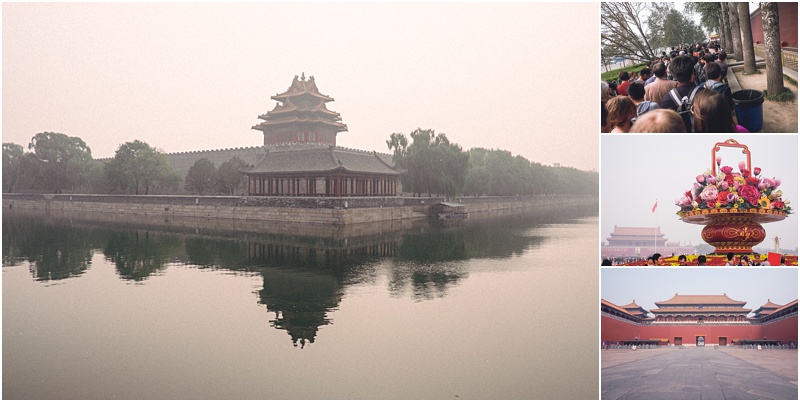 On Tuesday Brendan was finished with his workshop so we got to spend the day together. We decided we had to see The Great Wall of China (World Heritage Site) and this was definitely the highlight of our trip. No visit to China is complete without a visit to The Great Wall. We hired a driver to take us to both The Great Wall and The Ming Tombs (World Heritage Site). There are several sections of the wall that are not a far drive from Beijing and we decided to visit the Juyongguan Pass section. This section is actually a loop and we decided to walk the entire loop which took us about 2.5-3 hours. It is extremely steep and the steps can be very uneven; our legs were very sore at the end of the day! The spectacular views are worth the steep ascent and not many people go past the first section which can be very crowded, but if you decide to keep going you will have many sections of the wall to yourself. On our descent we had the odd experience of seeing a camel. The Ming Tombs are definitely worth a stop, but the area is quite large with several entrances so you should decide in advance which section you want to see.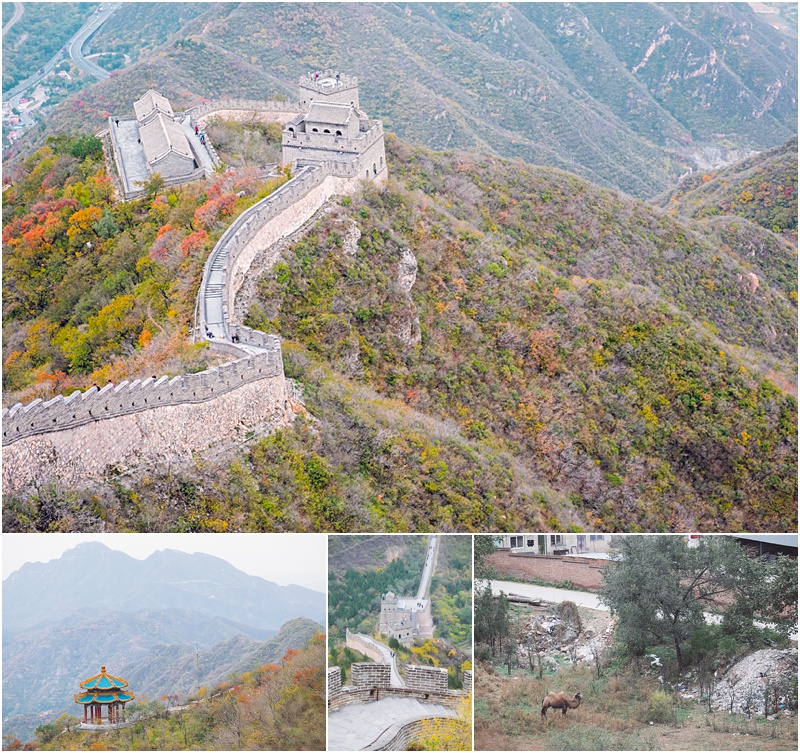 Our flight on Wednesday wasn't until late afternoon so we decided to visit the Lama Temple in the morning before going to the airport. The Lama Temple is a practicing Buddhist temple. It was very interesting and worth a visit. Take some time either before or after to explore the little storefronts along the street outside the temple. Beijing was an amazing experience and I wish we had a few more days to really experience the city and culture.
Jen & Brendan {October 2014}