Brussels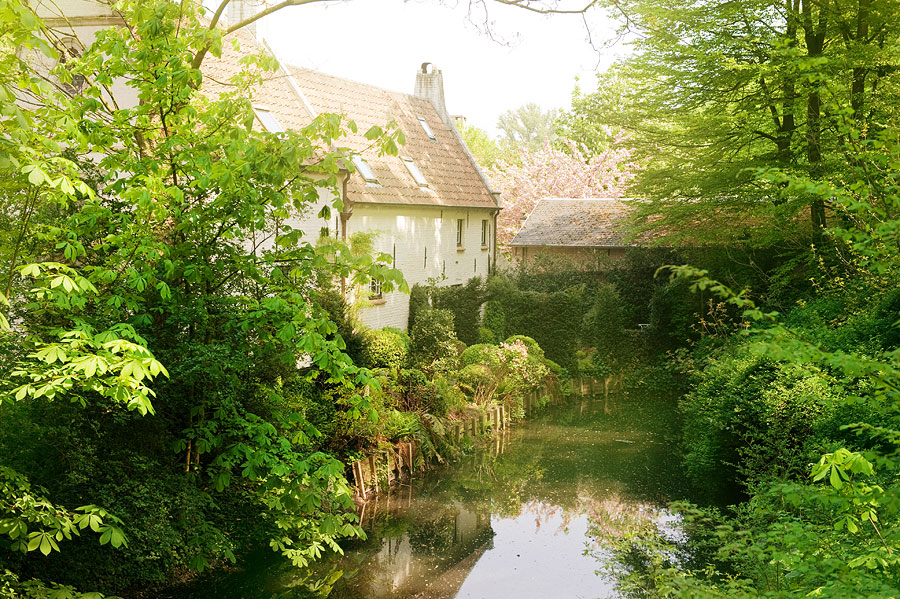 We were lucky enough to cash in frequent flyer miles on American Airlines for our round trip flight from Boston to Brussels via JFK plus also cash in points for free nights at the Hilton Brussels City Hotel, score!!
Much to our surprise when we arrived at Logan Airport was first, that the airport was somewhat empty.  Considering this was the start of spring break for the New England area we figured the airport would be a mob scene.  Our second surprise was that our flight from Boston to JFK was completely cancelled, even though we had checked the flight status before we left for the airport. We never found out why but there were terrible storms the night before in the northeast which resulted in a lot of diverted flights so I'm sure that had something to do with it. Since we had free tickets we assumed we would not get treated very well, but much to our surprise the agent spent almost half an hour trying to get us to JFK so we would not miss our connection to Brussels.  Miraculously she was able to rebook us on a JetBlue flight which was somewhat of a pain because we had to change terminals in both Boston and JFK and go through security again at JFK.
We arrived in Brussels early in the morning and decided to take the train into the city. The Hilton Hotel is very close to Gare du Nord train station and is on the same line as the airport, plus the taxis in Brussels are extremely expensive. I really hate dragging my luggage around, note to self that I should use my backpack in the future.  Of course we were tired so we took the wrong exit out of the train station and probably took the longest walk to the hotel possible, which was literally two blocks from the train station, but at least our room was ready when we arrived!
Brussels is a great city to walk around, not too large and made for pedestrians and bicyclists, although it can be a very confusing city to walk around though and we were constantly checking our maps. I'm usually very good at keeping my bearings but I felt like I was always lost. The city has great signage for tourists though with arrows pointing the direction to major sites. Our first day was spent recovering from jet lag and we did go out for a short walk and dinner, but Tuesday was our first big day in the city.
We found Brussels to be a truly charming city. There are not many touristy things to do so one day is perfect for a visit, two if you want to spend some time going to the museums. We spent our first day wandering the city taking in the beautiful sites from the Parc de Bruxelles with the Palais Royal (which is only open from July to September so we didn't get to tour it) to the Grand Place, which is the geographical, historical and commercial center of Brussels. Three things Belgium is known for 1. waffles; 2. chocolate; and 3. beer; I had a waffle smothered with strawberries and whipped cream, we bought lots of chocolate to bring home, but never managed to try any beer, they have 120 different varieties of beer!
On Wednesday we decided to venture out of Brussels and go to Bruges. It is a very easy two hour train ride from Brussels and definitely worth a trip! The town is extremely picturesque with lots of medieval buildings and canals running through the town. We had so much fun wandering the cobblestone streets.  The following day we took the train to Ghent which is actually on the same line but closer to Brussels. While Ghent wasn't as popular and as touristy as Bruges, we actually enjoyed it more, especially the castle Het Gravensteen…I love castles!
Our last day we spent the morning walking to the Palais de Justice and came upon the gorgeous gardens of the Place du Petit Sablon and Notre-Dame du Sablon, an amazing church. We had absolutely gorgeous weather the entire time we were there as they were having a warm spell with over 70 degree days, so the turtlenecks and long sleeved shirts we brought were a little impractical and I had to buy a few short sleeved shirts.
Overall we had an amazing trip and I would highly recommend a trip to Belgium for anyone who is thinking of going. From the people who were warm and friendly to the beautiful cities, it is a country worth experiencing.
Brendan & Jen {April 2011}