Budapest
Budapest (World Heritage Site) is actually two cities, Buda on the west side of the Danube and Pest on the east. We're staying on the Pest side and have a gorgeous view of Castle Hill across the river which is where we went this morning.  We usually spend our first day in cities just walking around, exploring the city and getting our bearings. It's fairly cold, but much warmer than it has been in Maine, and it started snowing.  When we first started out this morning we wandered around the grounds of the the Buda Royal Palace.  We'll probably end up going back here as the grounds are beautiful and two museums and the national library are located here.
On our second day the jet lag finally caught up with me. Usually the first day I feel great and then it hits me like a train. I barely slept at all last night so I felt awful this morning. We still managed to have a great day. Last night it started to snow and it snowed pretty much off and on all day today. It made the city so beautiful with a fluffy white layer of snow on everything.
We spent the first part of our day at the Terror Haza (The Terror House), a museum which recounts Hungarians turbulent history with the Nazi regime and the Soviet Union. The building actually was the headquarters of the Nazi puppet regime, the Arrow Cross Party, which executed Jewish Hungarians in the basement. After the war the Soviets and their secret police occupied the building.
McDonald's are everywhere, I think we've spotted at least five so far. Coffee is huge in Budapest, so McDonald's has these McCafe's which have coffee drinks similar to Starbuck's. There was even one in the train station that was very fancy! I wonder if they will ever bring these to the U.S.
Our next stop was Szent Istvan Bazilika (The Basilica of St. Stephen) as well as the Szechenyi Chain Bridge which is just down the river from our hotel. We also stopped at the Gresham Palace which was restored and is now a Four Seasons Hotel. We could only wander around the lobby which was decorated in Art Deco style. Tomorrow we are going to the Margit-sziget (Margaret Island) which is an island in the middle of the Danube, it's a huge park and there are no cars allowed on the island.
As we were exploring the city we stopped at a gas station to use their restroom and they had a little cafe so we got a snack as well. Brendan thought it was funny that we were having lunch at a gas station. They had the weirdest vending machine I'd ever seen! You could get a plate of spaghetti from a vending machine!
Today we headed out into the Hungarian countryside to Esztergom. We always like to get out into the countryside to get a better feel for the country. Train rides are always in experience in foreign countries but we've learned from our previous experiences. Typically people who work at the train stations do not speak any English so we learned this great tip from Rick Steve's that you should write the name of the town you want to go to, the time, and how many people and you usually get the correct ticket.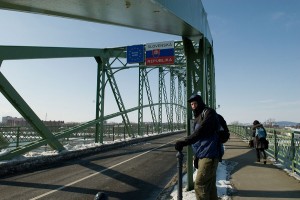 Esztergom is this quaint town with lots of colorful buildings. The largest church in Hungary the Basilica is located here. It was very cold and windy today especially crossing the Danube River.  We had fun exploring the small town of Sturovo in Slovakia.  We stopped and had lunch in this little cafe and we were hoping to have a pizza but they only served pizza on the weekends, bummer.  I'm always amazed at how well people speak English, our waitress was fluent in several languages, meanwhile I only know one.
Whew, our last day in Budapest and I'm exhausted!  Traveling is so tiring because we go non stop trying to see as much as we can while we're here but it's totally worth it. We climbed up Gellert-hegy to see breathtaking views of Budapest. We walked over to Var-hegy (Castle Hill) which is where we started the week. But I was too tired to walk down so we took the Funicular down, which is funny because most people take it up:)
We then spent the afternoon at the Magyar Mezeti Muzeum, which is the Hungarian National Museum learning about Hungarian history, which was very interesting. On the way back to the hotel we stopped at Coffee Heaven for a hot chocolate (yummm) which was absolutely packed on a Friday afternoon and reminded me of Starbuck's. I'm actually surprised we never saw a Starbucks, as we saw what seemed like a McDonald's on every corner, lots of Burger Kings, and quite a few Subways.
We had a great trip but it's always good to go home!
Jen & Brendan {February 2009}