Dubai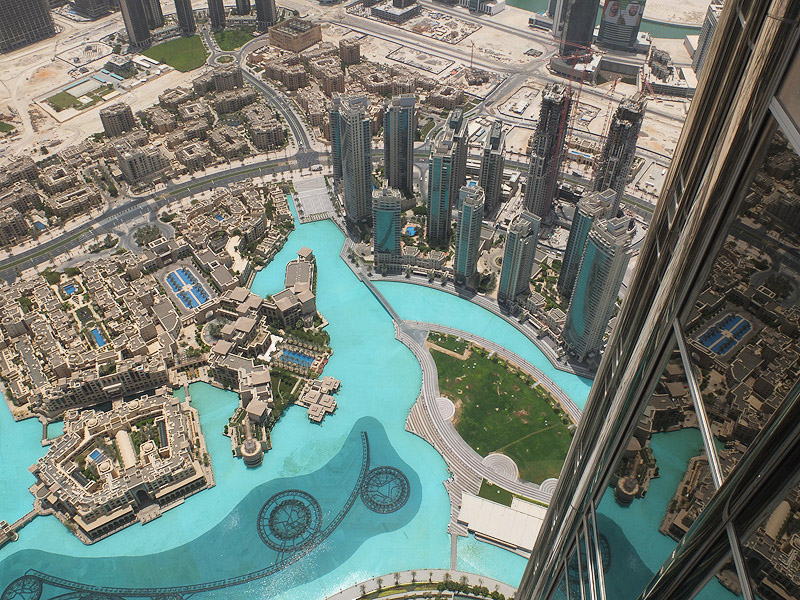 After a long day of travel, from Bangor to LaGuardia then Atlanta, we arrived in Dubai a full 24 hours (after adding the 8 hour time difference) after we left. Our flights weren't too bad considering we were seated in front of a little boy who liked to kick the seat and talked constantly. At least he slept half of the 13 hour flight. Immigration and customs took almost and hour, so be prepared for a wait. They were scanning people's eyes (although they did not scan ours) which seemed to be one of the reasons it was taking so long.
I thought arriving in the evening and being able to go to sleep immediately in the evening, exhausted from the flight, would make it easier to adjust to the time difference, but apparently my body still didn't get the message. I awoke at 2 am wide awake and fell back asleep as the sun was rising.
Our first day in Dubai and we are overwhelmed by the heat! As I write this it is 104 but feels like 121 (according to weather.com) and it will be cooling down to a brisk 90 this evening. It's like a literal wall of heat when you open a door to the outside. It is impossible to stay outdoors for any length of time, much less walk around the city, which is what we love to do. We also arrived with just a few days left of Ramadan, a time when Muslims fast between sunrise and sundown. Even though we are not Muslim, it would not only be rude to eat and drink in public, there could be a possibility of getting fined. Without being able to drink water in public, this makes it monumentally harder to be outside in this heat. The best time to visit is between October and May when the temperatures during the day are in the 70-80's and evenings can be quite cool.
We decide to visit the tallest building in the world, the Burj Khalifa, as well as the Dubai Mall, which is part of the building complex. It is really easy to get around Dubai by taxis, they are very inexpensive, reliable, and are everywhere, so we hop in a taxi for our first exploration of the city.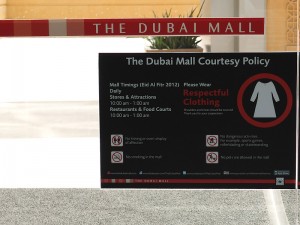 The most noticeable thing about Dubai is how westernized the city is. No matter which way you look you will find something from the United States, whether it's restaurants from the typical McDonald's and Starbuck's everywhere, to The Cheesecake Factory and PF Chang. At the Dubai Mall, which is HUGE, there seemed to be a lot of United States stores from Bloomingdales and Tiffany's to Nike and Coach. While there may be some western influence in their restaurants and shopping, their culture is very different. Besides having to be respectful of Ramadan, we also have to wear appropriate clothing when we are out. The mall had a helpful sign, especially for tourists. When I am out in public I have to wear long shirts and pants which wouldn't be so bad if it wasn't so hot! Note on the picture below that "No kissing or overt displays of affection" are allowed. Public displays of affection are against the law and while it is not enforced here so much as other countries that are much more strict, such as Saudi Arabia, there is still the possibility of getting arrested.
We arrived at the Dubai Mall, which is where you go to purchase tickets to the Burj Khalifa and take the elevator up to the observation floor. There are two types of tickets and it is much more expensive (about $75) to purchase a general admission ticket, instead purchase a dated/timed admission. The elevator ride up is really fast and for the first 30 floors I wasn't even sure we were moving. The building is 160 floors, but the observation floor is on the 124th floor, and we were overwhelmed with the height and views of Dubai. After enjoying the views we headed back down and enjoyed learning about the design and construction in the exhibits before we headed back into the mall.
We did venture outside to get a view of the Burj Khalifa, but made our way quickly back inside to the shelter of the a/c.
We also decided to go the aquarium at the mall, which has a huge tank which you can see without going into the aquarium. It's a small aquarium but I thought the exhibits were well presented and is a great place for kids. Dubai actually seems like a great place for a family, there is a beautiful beach, the Wild Wadi Water Park, and even and Ski Dubai, an indoor ski center!
This evening we enjoyed a dinner cruise with Bateaux Dubai on Dubai Creek, which we can see from our hotel room.
On our second day we had planned on taking a Red Bus Tour around the city. The buses take you around the city and you can hop on and off all day, but the top is open air and we weren't sure if they were air conditioned or not. When we checked with the concierge about getting tickets he recommended hiring a driver to give us a tour of the city. This was a much better option for us as it was less expensive and took us less time, since we didn't have to wait for buses and he gave us a great tour.
I would definitely recommend going to the Dubai Museum which has great displays about the culture and history of the region.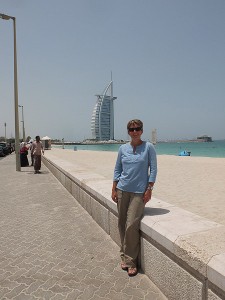 Even though we're not big spenders we decided to splurge tonight and get reservations at the Skyview Bar at the Burj Al Arab. This is the only 7 star hotel in the world and you cannot even get into the hotel without a reservation and a minimum purchase amount. The hotel is built on a man made island with a security gate. The architecture of the hotel is really cool and I was glad we were able to drive by it that afternoon, but the inside decorations are definitely over the top and ostentatious. Even though it wasn't really our style, it was definitely a fun experience and worth splurging on.
We really enjoyed Dubai and wish we could have been here when the weather was more suitable to walking around the city and really getting a chance to explore and fully enjoy the sites.
Jen & Brendan {August 2012}