Glacier National Park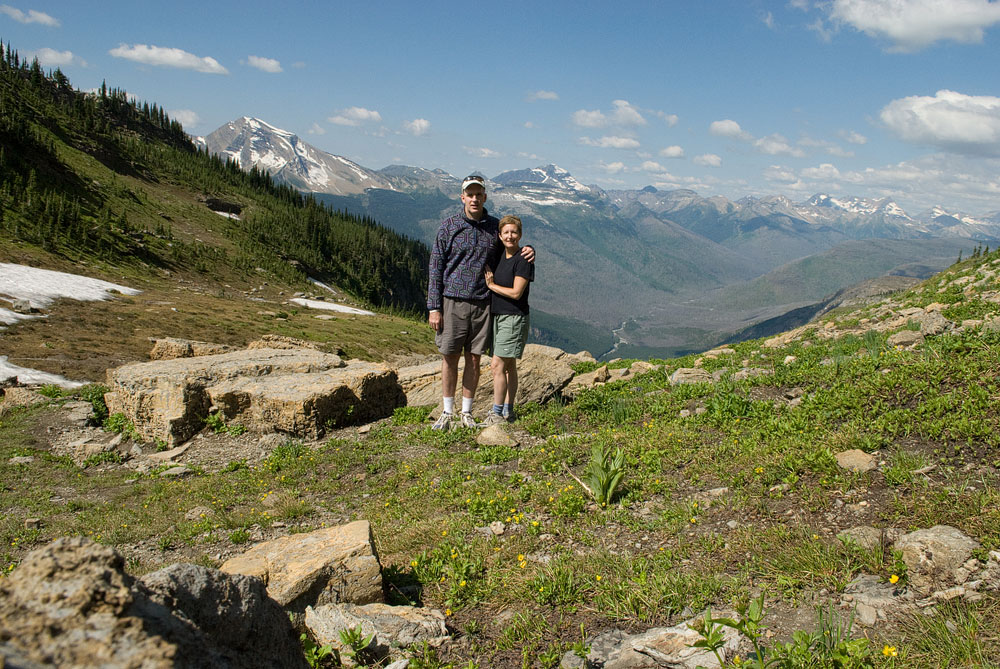 We're here! After a long day of travel on Sunday, up at 5:30 a.m. (4 hours of sleep for me) to catch our plane to Chicago then to Calgary, and then a drive to Lethbridge, arriving at 10 pm, which is really midnight east coast time…can you say exhausted!! Yesterday we drove down to Glacier National Park driving in from the east side of the park. The Silver Wolf Chalet, where we are staying, is on the west side of the park and to drive through the park visitors take the Going to the Sun Road which is both a National Historic Landmark and a National Civil Engineering Landmark. When you drive the road, you can only imagine what it took to build it in 1933. Although the drive in mileage isn't very far (50 miles), it takes over 2 hours to get from one side to the other because of the narrow and winding road. We decided to break up the drive with a hike to St. Mary Falls and Virginia Falls. This is one of my favorite hikes in the park.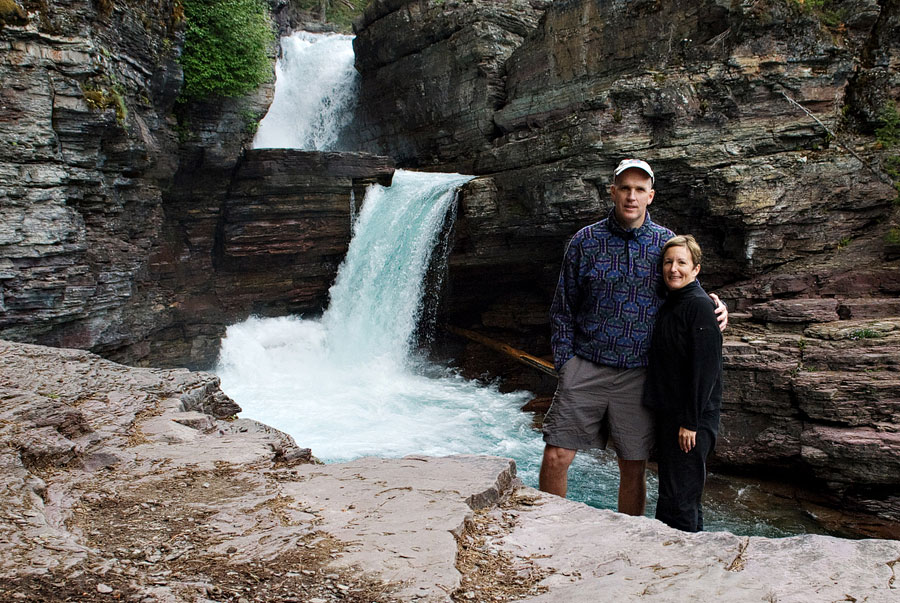 In 1850 there were approximately 150 glaciers in Glacier National Park, today there are only 26. Scientists predict by the year 2030 there will be no glaciers left in the park. They'll have to change the name to Ex-Glacier National Park! Driving on the Going to the Sun Road make sure to stop and see Jackson Glacier which can be seen from the road.
The Going to the Sun road passes through the Continental Divide. Logan Pass located at the Continental Divide, has a visitor center and lots of hiking trails that lead out from this point. Today  we went on a hike to Hidden Lake. The hike starts at Logan Pass so we got up early because it's about an 1.5 hour drive and they are doing a major restoration project on the Going to the Sun Road so there are up to 30 minute delays on the road. This is also one of my favorite hikes, it's a 6 mile hike and the first section is very popular so it gets crowded, but the second half down to Hidden Lake is a little less popular which is the part we enjoy the most. Today though we found the hike much more crowded than our previous visits. It was still beautiful though and lots of wildlife to view. When we finished our hike we were sitting at the Logan Pass Visitor Center eating lunch and relaxing and a chipmunk wanted a handout. He actually came up right next to me and tried to open our Pringles can! The Bighorn Sheep are much more elusive than the Mountain Goats and a herd of sheep actually stopped traffic on the Going to the Sun Road as people got out to get their picture.
Another gorgeous day at Glacier National Park, although Brendan and I were completely wiped from yesterday's adventure. We decided to do another six mile hike to Avalanche Lake but it wasn't nearly as strenuous as yesterday since there wasn't as much elevation gain. It's a beautiful hike along Avalanche Gorge and then through a forest opening up at Avalanche Lake. Avalanche Lake gets its name from the numerous avalanches that take place each year at the far end of the lake. Hundreds of trees are strewn across the lake and make their way down to the far end of the lake and eventually may get swept down the gorge.
After two exhausting days of hiking we went back to our cabin and collapsed for a long afternoon nap. We headed back into the park for dinner and watched the sunset over Lake McDonald.
Another awesome day at Glacier National Park! The weather has been spectacular, although Brendan thinks it's too hot! They have been having a very dry and hot season here and the rivers and streams are noticeably drier than our last visit.  Last night we went to a lecture on the affects of climate change on Glacier National Park and today when we were eating lunch at Logan Pass after our hike and a park ranger was giving a talk on climate change as well.  One of the things the park has instituted this year is a shuttle system, which is a great way to get around the park especially since parking can be very difficult. The funny thing is they started the shuttle system because of the road construction not for environmental reasons, but obviously is an added benefit.
We hiked The Garden Wall today, which is a 7.5 mile hike to the Granite Park Chalet.  We made it about halfway before we turned back. We ran into a herd of Bighorn Sheep on the hike and I was able to get lots of pictures of them.  I sometimes think they are posing for the camera. A good portion of the hike is on a very narrow trail that overlooks the Going to the Sun Road.  It's quite easy to get vertigo on this trail.
Surprisingly there is not a lot of commercialization immediately around the park so there are not a lot places to stay and eat.  I think the season is so short here that the area cannot support a lot of businesses.  Most of the restaurants are fairly expensive for dinner but tonight we found a great local diner, the Glacier Grille.
Tomorrow we are headed to Banff National Park, so it will be a long travel day for us.
Jen & Brendan {August 2008}