Glacier National Park
First, I want to say that Glacier National Park is our all time favorite national park. Although we have not had a chance to visit all the national parks, we keep returning to this one over and over. It's not only the beauty of this park that makes it our favorite, but the great trails, abundant wildlife and the ability to escape the crowds. I was sad that Brendan wasn't going to be there but excited that I was going to get back on some of our favorite trails. I drove from Spokane on Friday and arrived at the Silver Wolf Chalets much later than I anticipated. After stopping in Kalispell to do a load of laundry, do some grocery shopping and get some bear spray at Rocky Mountain Outfitter, and also realizing that I lost an hour going from West Coast to Mountain Time, it was late in the afternoon before I finally arrived.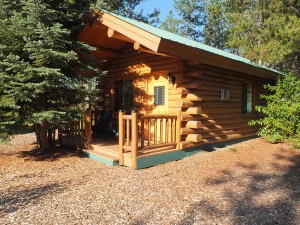 The Silver Wolf Chalets are located about 5 miles outside of the west entrance to the park and we stay here whenever we come to Glacier. The cabins are very comfortable and the staff is knowledgable about the area. Since I was hiking by myself I asked if they would mind if I left my daily itinerary and checking to make sure I returned every evening, which they were more then happy to do. Glacier National Park highly recommends doing this even if you are with a group and they even provide you with a handy form to fill out (Day Trip Plan). If you are going into the backcountry overnight you must secure a permit (check out their Backcountry Camping Page).
After checking in I couldn't wait to get to the park so I decided to go to Apgar, the first visitor center on the west side of the park. I stopped at the ranger station to check on trail conditions and bear activity as well as find out about ranger led hikes. Because it was huckleberry season (similar to blueberries) there was a lot of bear activity and the trail to my favorite hike was closed because the trout were spawning in the stream and bears were fattening up for the winter. I had dinner at Eddie's Cafe in Apgar and enjoyed my first view of Lake McDonald, so peaceful!
My first day I decided to go on a ranger led hike to Avalanche Lake. There had been bears and a mountain lion in the area, so even though this is an extremely popular trail, I felt better going with a group. I met the ranger and a few other hikers at Avalanche Creek parking area. It got a little worried when our ranger told us that she was only hiking with us to the lake, so I had to hike back by myself. The trail was so crowded though, I never seemed to be by myself and I never saw a bear or mountain lion, yay!
The week before I arrived Jakson Kreiser, a park seasonal worker at Lake McDonald Lodge, went out on a day hike by himself and did not return so there was a lot of search and rescue activity going on in the park while I was there. With 3,283,246 acres of land in the park it can be like looking for a needle in a haystack. Fortunately he had left his hiking itinerary with someone so search and rescue teams had a good idea of where to look for him. According to a ranger his plan was to hike to Hidden Lake and then go into the backcountry, off-trail passing through the Floral Park area and then descending down to Avalanche Lake; he did not have a map, compass or adequate supplies in case he got lost. He was yet to be found and my prayers go out to his family and friends. I can't even imagine how heart wrenching it must be for them to not know where he is.
The Going to the Sun Road, which is the one road through the park, is a beautiful, but hair raising drive. It is a narrow, winding road that hugs the side of the mountains much of the way. There are many pull-outs to stop and enjoy the incredible views and because of what seems like constant road construction, I highly recommend leaving as early as possible if you are going up to or past Logan Pass. Most years there is road maintenance, so this is not only a necessity to avoid the up to 30 minute traffic delays, but also to make sure you get a parking space at Logan Pass. I arrived around 9 a.m. and there were plenty of spaces, but by 10 a.m. the lot is usually full.
We love the the hike to the Hidden Lake Overlook and it is very popular. Although it is a steep trail, much of the trail is on a boardwalk and there is usually a lot of wildlife at the overlook and I wasn't disappointed. What we love most about this hike is the trail down to the lake, which is a steep descent/ascent and is usually less crowded. Unfortunately this section of the trail was closed due to bear activity at the lake, although I did see a few groups ignore the sign:(
It's amazing how much snow there is still up here! We usually visit Glacier towards the end of August and most of this snow would be gone, as well as a lot of the tourists. It was noticeably more crowded this week. One of the great things about stopping at Logan Pass is the abundant wildlife in the area and I was fortunate to see some mountain goats and bighorn sheep when I was up there. The one thing I did notice was that there seemed to be less wildlife around then on our previous visits. A ranger thought it was because it was so hot that week, high 80's and low 90's, and that they were looking for cooler spots.
On my third day in the park I decided to hike to St. Mary Falls and Virginia Falls. I was a little nervous hiking by myself because it is in a forest and while the hike is popular, I wanted to get there early enough to make sure I was able to get a parking space, so I knew the trail wouldn't be crowded. They recommend that you make a lot of noise hiking to warn the bears you are coming, which is why hiking in a group is good.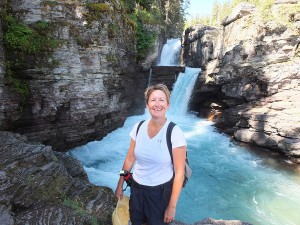 Another hiker was kind enough to take my picture. Notice the red can of bear spray on my hip, which I thankfully never had to use. I couldn't take it home with me though (not even in checked luggage), so I gave it to the Silver Wolf Chalet so that other guests could use it. The hike is on the east side of the park and it's definitely worth a stop either on the way to the trailhead or after your hike to see Jackson Glacier, one of the 25 glaciers left in the park.
After three great days of hiking, I thought it was time for a relaxing day especially since I was planning an 11.5 mile hike the following day. What better way to enjoy the park then on a Red Bus Tour driven by a Jammer. These cars were built in 1936-1939 and were restored by Ford in 2000-2002. The drivers became known as Jammers because the original transmissions were manual and people could hear the drivers jamming the gears as they drove up the mountain.
One of the things we love about visiting national parks and hiking is being able to "unplug," so important in our 24/7 world; it relaxes the mind and spirit. The only cell phone service in the park is at Apgar (at least on the west side) and there is no Internet in the park. Old fashioned pay phones are a necessity here.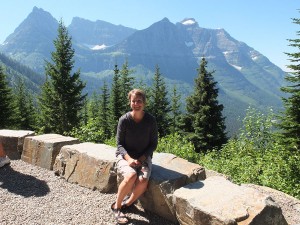 Our tour didn't start until 9:30 and we had to wait our turn going up to Logan Pass. Even if you go up earlier you still have construction delays, but the wait and line seemed much shorter.
The tour was definitely worth it and I would recommend taking one if you have time. They have different tours and I took the shorter 4.5 hour tour.
My last day in Glacier National Park and I wanted to make the most of it. One of the best hikes in Glacier is the Highline Trail and I was excited to discover that there was a ranger led hike on that day. It was an 11.5 mile hike from Logan Pass to the Loop. The park has an awesome shuttle system so it makes it much easier to get around the park without your car and be able to do hikes that don't start/end in the same place. The only thing about the shuttle system is that it is extremely popular and at certain points you may have to wait awhile for a shuttle. The first two shuttles in the morning from the Apgar Transit Center are express shuttles up to Logan Pass. There is one at 7 and 7:30 and people start lining up for them at 6:30, so I got there a little after 6. It can take anywhere from 1-1.5 hours to get to Logan Pass and I wanted to make sure I made it for the hike at 9 a.m.
The Highline Trail begins at Logan Pass and hugs a cliff wall with a sheer drop to the Going to the Sun Road. There is a cable to hold onto but if you have a fear of heights, this trail may not be for you. The park is filled with beautiful wildflowers and there were many along the trail. On our previous visits we have always seen a lot of wildlife on this trail, mountain goats and bighorn sheep, many times sharing the trail with them, but today there was a significant lack of wildlife. We did see a few cute creatures and I even spotted a grizzly bear with cubs, but they were too far away to get a picture of them.The Highline Trail is one of the most spectacular hikes in the park, every turn in the trail opened up to a jaw dropping vista.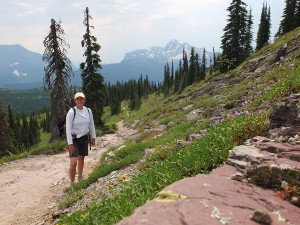 Our ranger left us at the Granite Park Chalet as she had a reservation to stay there that night. This is a popular destination as there are numerous trails that branch off from here. II had a steep 2,200′ descent in 4 miles from the Granite Park Chalet to the Loop and my knees are still recovering. The shuttle stop was extremely crowded but the majority of people were headed up to Logan Pass, so I was able to get on the first shuttle back to Apgar.
The Highline Trail only opened the week before I arrived because of snow. Glacier has an extremely short season, especially the high country. The Going to the Sun road didn't open until June 19th this year after all the snow had been cleared and the last day it will be open is September 16th.
I had such an amazing trip, I can't wait to return with Brendan!
Jen {August 2012}