Greece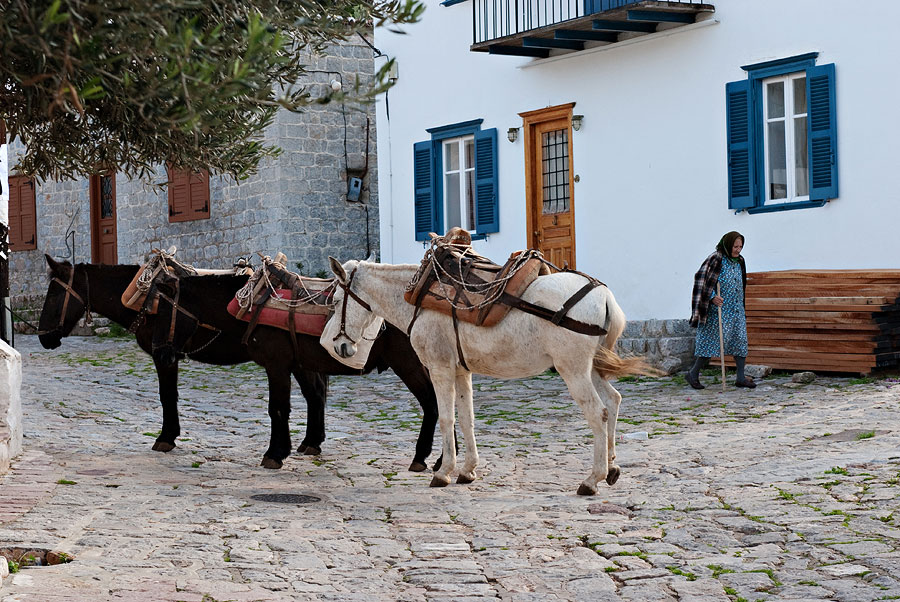 When I think of Greece and Athens, democracy and the birth of civilization come to mind, but after visiting Athens I've added some new words…pollution, noise, and traffic!
We always rely on Rick Steve's guidebooks (if he has one for where we are going) great for practical information and helpful tips that you won't find in some of the glossy travel books, which I also love for the pictures!
When we arrived in Athens we had planned on taking the Metro to our hotel since it seemed really easy. There is nothing worse than dragging your luggage up and down stairs and through the Metro and trying to figure out where you are going in a foreign city with little to no sleep. There was a Metro stop right at the airport and our hotel is on the same line as the airport and only a short walk from the stop, so it seemed relatively easy. Unfortunately Greece is having a severe budget crisis and the government was in the midst of making severe budget cuts so there were strikes throughout our stay, which of course affected transportation. (BBC: Greece Approves Austerity Budget Amid New Strike). So a wild taxi drive from the airport it was.
After the spending the first day recovering from jet lag, our first stop was the Acropolis (World Heritage Site), if you go there first your admission ticket will also get you into five other sites around Athens. We had an absolutely amazing view of the Acropolis from our hotel (although not our room) and it is stunning at night all lit up. Be prepared for lots of uphill walking to the Acropolis since it sits on a hill overlooking all of Athens, but it is definitely worth the trek. They are currently working on a huge restoration project so unfortunately there are huge construction cranes that ruin the view. The project, started in 1984, will catalog all the pieces of the Acropolis lying on the ground and in museums around the world and then they are going to attempt to put it all back together again. That is one big jigsaw puzzle!! One of the things that is most noticeable is the new white marble they are using to repair and replace missing pieces. Once we finished touring the Acropolis we wandered down to Ancient Agora which is right next to the Acropolis. Not quite as impressive as most of the buildings are just rubble on the ground, so it is hard to envision what it once looked like. It wasn't nearly as crowded as the Acropolis though, so it was a real pleasure to just wander around the ruins in the beautiful 50 and 60 degree weather. On a side note, everyone was walking around in winter coats and we were actually quite warm; Brendan wore shorts one day, I'm sure they thought we were crazy!
Although Athens is important to visit, everyone told us that we have to get to a Greek island which are very different than the crowded, polluted city of Athens so we bought ferry tickets for Hydra. Hydra was by far my favorite part of our trip to Greece, a photographers paradise! It's about a two hour ferry ride from the port of Piraeus just outside of Athens. We would have taken the metro but the workers were still on strike so we took a 30 minute taxi ride. The port is huge with lots of boats and ferries and no markings, so it was difficult to figure out where we were supposed to catch our ferry but a local was kind enough to show us. The water was like glass as we crossed the Mediterranean Sea and we arrived around 11. There are no cars on Hydra so the only way to get around is by walking, donkeys or boats, it reminded me a little of Venice. At one time Hydra had plenty of spring water, but around 200 years ago there was an earthquake and the wells went dry, so now all their water has to be shipped in. We spent the day just wandering around the island, getting lost on the narrow streets and taking in the slower pace of life; we almost felt like we had stepped back in time. Since this is really the off-season many of the stores were closed and the streets were extremely quiet. Stray cats wandered the island and everywhere we turned there they were; Brendan and I began to think that there might be more cats than people! They appeared very well taken care of and we actually spotted cat food thrown down on the sidewalk. By the time we arrived back in Athens it was dark but we managed to find a taxi. Since we have no idea where we are going one of my biggest fears is the taxi driver taking us on this long detour to the hotel to make some extra money, but with the help of my trusty Blackberry along with Google Maps I was able to follow our progress to the hotel!
On our third day in Athens we decided to follow Rick Steve's Athens City Walk. If we hadn't followed the walk we never would have seen the Anafiotika neighborhood; a beautiful neighborhood at the base of the Acropolis built by the people from the island of Anafi. Wandering through the maze of houses down narrow paths we felt like we were back on Hydra. One of the stops on the walk was the Temple of Olympian Zeus, although not much remains the scale of the columns that are still there was just mind boggling. We took a small detour from the walk and decided to hike up Mars Hill which has stunning views of the Acropolis and Athens.
Christmas Eve day we spent visiting the brand new Acropolis Museum, which is amazing! It is built on top of an archaeological site and you can watch them excavating and working on the site, even inside the museum the floors are clear so you can look below at the site. The museum is completely filled with important pieces from the Acropolis and Greece is hoping that the British Museum will return the Elgin Marbles, taken from the Acropolis from 1801-1821 by Thomas Bruce, 7th Earl of Elgin. Our timing was perfect walking back to the hotel; we watched the changing of the guards in front of Parliament.
Next stop…flying to Istanbul on Christmas Day.
When we returned from Greece I was organizing my office and came upon this old postcard my parents had sent me from Athens when they were there in 2000. They actually stayed in a hotel just down the street from ours which we passed every day on our walks.

Brendan & Jen {December 2010}