Krakow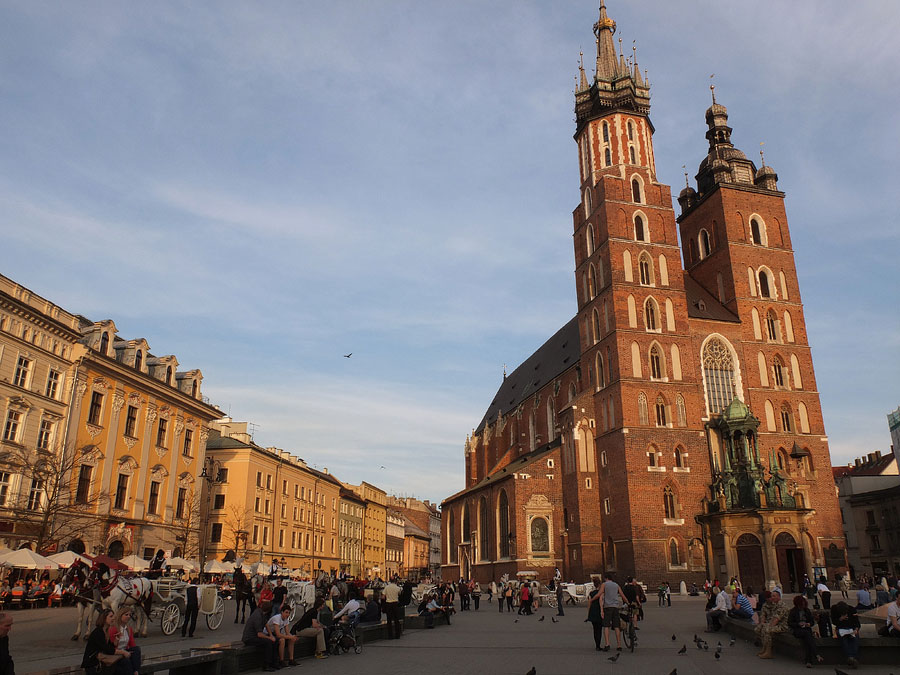 We loved Krakow! What an amazing and beautiful city and so much fun to wander the streets of the Old Town (World Heritage Site). We wish we had more time there.
It was a harrowing drive from Warsaw. We picked up our rental car from Hertz and got on the road with our trusty Garmin GPS, which never steered us wrong on this trip. We shouldn't have laughed every time she said a street name, she spoke better Polish than we did. Before the trip I started getting really nervous about driving in Poland, especially after watching some YouTube videos and while the driving was intense it wasn't as bad as I expected. We only had two near death experiences while driving to Krakow; they are extremely aggressive passers and nothing is more nerve wracking than seeing a car coming straight at you and they can't get into their lane because it is blocked by other cars. On the major highways they also drive like they are on the autobahn, so you better not be going slow in the left lane. We did notice a lot of police, but they were generally trying to catch people speeding through the small towns where the speed limit would abruptly drop from 90km/h to 50km/h.
We were greeted in Krakow to lots of traffic but we had a beautiful view of Old Town and the river from our hotel, the Hilton Garden Inn. We didn't arrive in Krakow until late in the afternoon so we took a short walk across the river and then had dinner at the hotel.
Since Wawel Castle is a popular tourist spot we decided to go there first thing before tickets sold out. There are several areas of the castle and each has a separate entrance fee, but this allows you to pick and choose what to see. We decided to see the Royal Treasury and the State Rooms, both of which were ok. I thought the Treasury would have more jewelry, but it was all weapons. When we left the castle we walked to Old Town to check out Market Square
We had dinner at the quaintest little restaurant, the Pizza Garden, that had amazing brick oven pizzas, which we never would have found without Rick Steve's guidebook. The restaurant was only a short walk from our hotel; although we made the mistake of walking along a busy, major road only to discover at one point there was no more sidewalk (which reminded us of our walks in Rome). After dinner we chose to walk along the river and enjoy the beautiful evening, which was a much better experience.
We went to Auschwitz the next day. That evening we decided to walk into Old Town and have dinner at another restaurant recommended by Rick Steve's, Pizzeria Trzy Papryczki. While the pizza was not as good as the Pizza Garden, the cute garden courtyard had a nice atmosphere.
We had the morning in Krakow before we need to drive back to Warsaw for our flight the next morning so we decided to go to Schindler's Factory Museum. If you are interested in World War II this is a must see and we really enjoyed it. I loved the museum; the exhibits were very creative and it reminded me a lot of the Warsaw Uprising Museum. The only thing Brendan did not like about it, was the lack of directions and the maze like feel, and we both felt like we missed some parts of the museum because of that.
Our drive back to Warsaw was loooong! The traffic was horrendous and it took us five hours to drive 180 miles; but we only had one near death experience. The last 10 miles were probably the worst with bumper to bumper traffic, but it was a Friday. Thankfully we were staying at the Courtyard Marriott right at the airport, especially since we had a very early flight in the morning.
We had a great experience in Poland. It is a beautiful country and everyone was very friendly and welcoming. Poland is not on the euro, their currency is the zloty and the exchange rate was in our favor, so everything was fairly inexpensive, which was a nice bonus. Make sure to check out our post about Auschwitz and Warsaw.
Jen & Brendan {April 2013}