New York City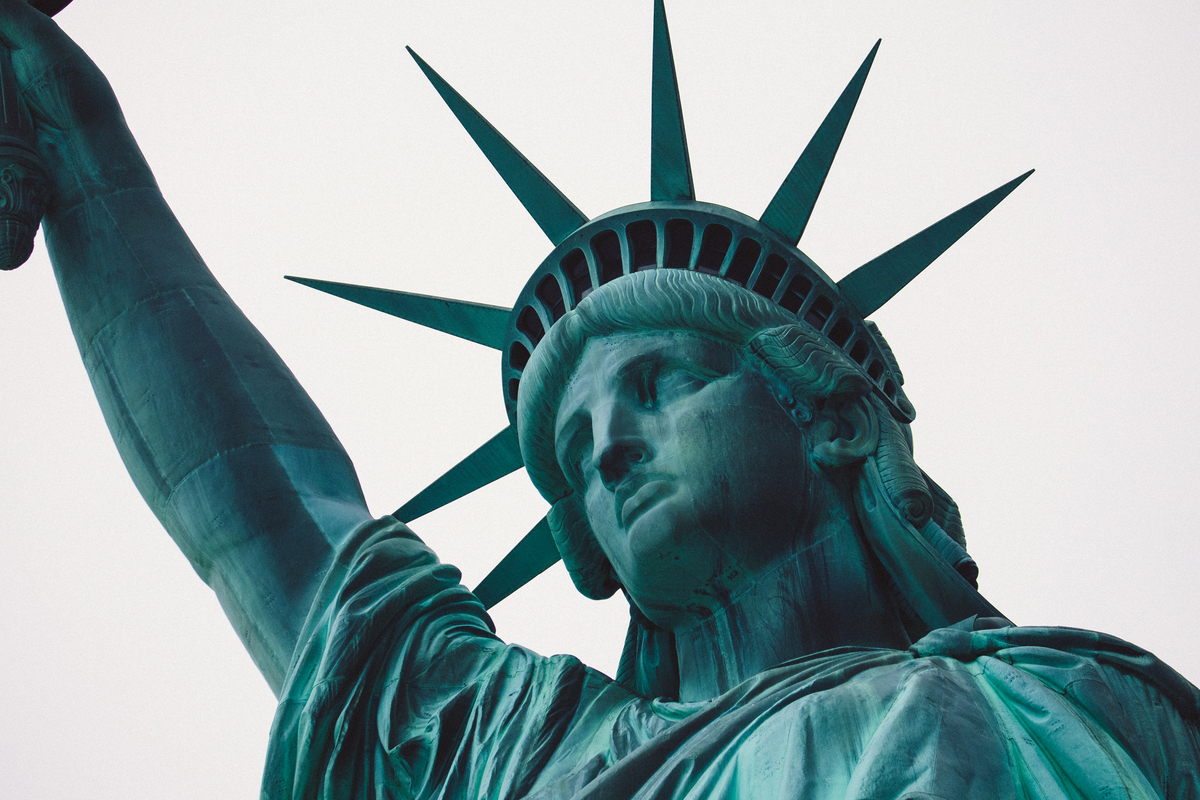 Brendan and I love to visit NYC; there are so many great places to go and things to do. Brendan does some work for the College Board and so we get frequent opportunities to visit the city. The College Board recently moved their offices from Midtown to Lower Manhattan. When we stayed in Midtown we got to visit and explore such iconic places as Central Park, the Metropolitan Museum of Art, Times Square, and the Empire State Building. Now that their offices are in Lower Manhattan we are excited to explore some areas that we haven't been to.
We stayed at the Millenium Hilton, which is just a few blocks from Ground Zero and our hotel room actually had a great view of the 9/11 Memorial and Freedom Tower. Neither of us had visited the Statue of Liberty and Ellis Island so we walked down to Battery Park and took the ferry first to the Statue of Liberty and then Ellis Island. The ferry leaves every 20 minutes, but I would definitely recommend purchasing tickets in advance and getting there early as it is extremely crowded. There are 3 types of tickets, ferry only, ferry + pedestal, and ferry + crown. Tickets are timed for a specific ferry going over (but you can take any ferry back) and you have to go through security screening before boarding. Unfortunately tickets were sold out to climb both the pedestal and crown, so we could only walk around the island (which was smaller than a I envisioned). The crown tickets sell out months ahead of time and the pedestal weeks ahead, so if you are interested in climbing up definitely plan way ahead. There are free ranger tours, that we did take advantage of. We didn't realize that our tickets also included Ellis Island, so when the ferry stopped there we decided to get off and visit. Not many people got off the ferry at Ellis Island, but it was still crowded but well worth taking the time to visit.
The 9/11 Memorial is a somber but beautiful place and the museum is a must see. We had been to Ground Zero after the 9/11 terrorist attacks when the place was still in ruins and they did an incredible job memorializing all the lives that were lost. The Memorial Plaza is free and open every day from 7:30 – 9pm with a heavy police presence. The museum requires tickets for a specific time and you have to go through security, so definitely get there early. We went right when the museum opened and by the time we left it had gotten very crowded. It was truly an incredible and overwhelming experience. The one thing I forgot to bring were tissues, which was a big mistake; they should have tissue stations throughout the museum!
We just missed the opening of the observation deck in Freedom Tower, which opened May 29th and looks amazing. Next time!
Brendan & Jen {May 2015}