Prague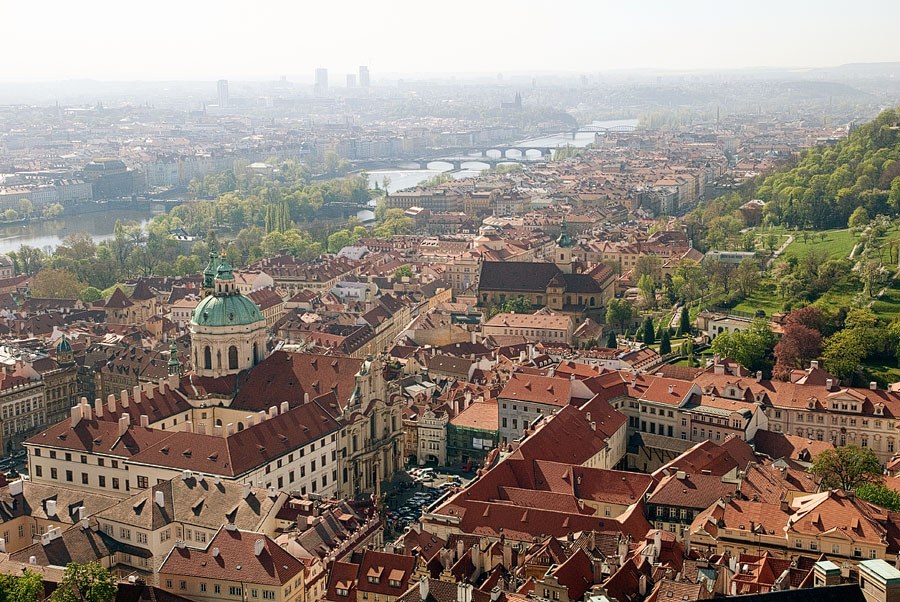 We were very excited to visit Prague (World Heritage Site). We had heard it was a beautiful city (it is!) and wouldn't be too crowded with tourists. Although there were a lot of tourists, they seemed to be from other parts of Europe; I think it is an undiscovered destination for Americans. Our flight left Boston at 7pm and we finally got to the hotel at 4pm Czech Republic time the next day after a four hour layover in Zurich.
Prague is a great walking city and our hotel was close to everything, so our first day we decided to walk around and explore the city. We first ended up in Old Town Square. Crosses in the cobblestones mark the spot where 27 Protestants were beheaded in 1621 by the Catholic Hapsburgs. Also in Old Town Square, the Astronomical Clock which displays several different times, Bohemian Time and Modern Time, as well as the sunrise and sunset and the different moon stages. Every hour there is a little show, Death tips his hourglass and pulls the cord ringing the bell, the Twelve Apostles make an appearance and then the rooster crows and the bells chime the hour. There are hundreds of onlookers each hour to watch this display.
The weather was absolutely gorgeous and it was glorious to leave the snow and cold:) The flowers were in bloom and the sun was shining bright! Our first stop was Prague Castle, which overlooks the Vltava River and Prague. It's a long, uphill walk to the castle and we headed out early to beat the crowds, as well as the heat. St. Vitus Cathedral is located inside the Prague Castle grounds and is absolutely spectacular. We climbed 287 steps up a tower to get amazing views of Prague. This is a must see and definitely get there early. The very narrow, circular staircase would be a nightmare to navigate in the crowds.
While the changing of the guards doesn't have the the pomp and circumstance as the changing of the guards at Buckingham Palace in London, but it was still fun. It was very crowded so I didn't get a great spot to get pictures, so try to time it so you get a better view.
We decided to head outside of Prague into the countryside so we took the train to Konopiste Castle. The weather turned and it became cool and windy and we weren't dressed for it, so we didn't stay as long as we had planned. We had even planned to have a picnic on the grounds but it was too cold. The castle is about a 1.5 mile walk outside of Benesov and is located on beautiful grounds. Unfortunately no photography was allowed inside the castle.
The train ride out to Benesov was really interesting. We have gotten used to most people speaking English (or at least a little bit), but once you get outside of the touristy places most people do not speak English, and the only word we know in Czech is dekuji, which means thank you. We managed to get a round trip ticket to where we wanted to go by writing our destination on a piece of paper, a great tip from Rick Steves. We relied heavily on Rick Steve's guide on our visit to Prague, all his guides have extremely helpful tips and advice. We used his Ireland guide exclusively when we there several years ago. Unfortunately the ticket agent short changed us, not much we could do about it since we didn't speak the language and it wasn't worth arguing about. The trains were definitely from the communist era, old and worn out.
We decided to take the train out into the countryside again to see Karlstejn Castle. Thankfully the weather improved, so we had a much more enjoyable visit. There is only one road through town which leads directly to the castle. Unfortunately it is over run with tourist trap stores, but it is still a cute town. We did not go on a tour of the castle because you could not take pictures inside and it was really crowded. There were only two tours and one requires advance reservations and is really for tour groups, so while we missed the inside of the castle we had fun walking around the town and enjoying the views.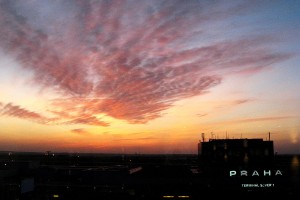 On our last day we just wandered around the city, exploring some parts we hadn't gotten to. We also went to the Museum of Communism which was really interesting. Wenceslas Square, where many demonstrations took place during the end of the Communist era. We decided to move to a hotel closer to the airport because we had an early morning flight. There was a brand new Courtyard Marriott literally right across from our terminal, very convenient!
We had a very long trip home, first to Zurich and then to Chicago, where we spent the night before our final flight to Boston. We flew this entire trip using frequent flyer miles, so of course we didn't get the best flights, but it was free so we really can't complain. Prague is definitely a city we would come back to!
Jen & Brendan {April 2007}