Rome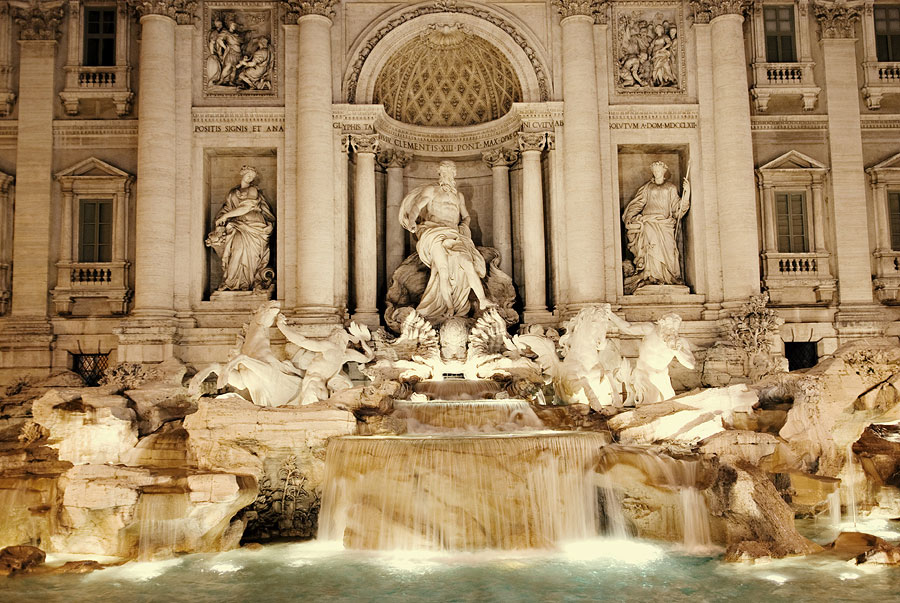 Brendan and I had an uneventful flight to Rome on Alitalia. Anyone who knows our travel history will understand how odd that is for us, but is even stranger considering we left at the tail end of a major nor'easter that dumped over a foot of snow on the Boston area. Domestic flights were getting cancelled and delayed but International flights get priority so we had no problems. Alitalia (now Air One) is an airline we normally would not have chosen to fly, but we booked our flight through Delta and Alitalia is one of their code share partners. We did get awesome seats at an exit row with tons of leg room, unfortunately one of the rest rooms was broken so people were using our aisle as a walk way to get to the open rest room and our feet kept getting stepped on. The food was a little scary as well, so we didn't eat much on the flight, but thankfully we both were able to get some sleep.
We arrived in Rome about eight in the morning and the plan was to take the Leonardo Express train from the airport to the Termini train station and then take the subway to our hotel which was a little less than a mile walk from a subway station. Lugging bags when you're tired and the trains and subway are jam packed with people is no fun at all, but even less fun is dragging your rolling bag down roads that barely have sidewalks and cars speeding by you. Next time we will take a taxi!  By the time we got to the hotel it was almost noon. Thankfully our room was ready and we immediately passed out.
Weather in Rome during the winter season was somewhat mild with temperatures in the 50's, but it is also the rainy season and we awoke to a dreary, rainy day. We decided to walk into the city which was a huge mistake! The road we took had no sidewalk and was a major route into the city. Crazy Italian drivers combined with the rain made it a harrowing experience that we will not be doing again. Thankfully the hotel has a shuttle bus which we will be taking advantage of from now on. Today we went to the Roman Forum and the Colosseum which would have been much more fun and interesting if it had not been raining and we weren't soaking wet.  The city is absolutely amazing, no matter where you look there are archaeological ruins, historical buildings and churches and I can't wait to have a non rainy day when it will be easier to take pictures.  Brendan was wonderful as my umbrella holder keeping me and my camera dry while I took pictures.  Before we caught the shuttle bus back to the hotel we took a quick walk over to the Pantheon since it was near the bus stop, but I did not take many pictures as we were afraid of missing the bus.  We'll definitely go back though.
I managed to come down with a cold on our third day and Brendan is praying he doesn't catch it from me. This always seems to happen when we travel. Luckily I don't seem to feel too bad but we both slept really late this morning because I kept him awake with my loud snoring. Yes, I admit it, I snore when I have a cold, well actually all the time but it is way worse with a cold:( The weather forecast yesterday was an 80% chance of rain but weather forecasters are just as bad here as in the states because it was absolutely gorgeous out. So instead of going to the Vatican we decided to explore some of the city on foot, starting at the Pantheon, then the Trevi Fountain with a final stop at the Spanish Steps.
The Pantheon has a hole in the middle of the dome completely open to the elements. Supposedly it is absolutely spectacular sight when it is pouring. I really wish I had a fish eye lens to capture more of the interior. The Spanish Steps were a mob scene which brought back many memories from when I backpacked around Europe one summer during my college years. Rome is very loud and the traffic is unbelievable. Crossing the street is a test of wills, although pedestrians have the right of way in sidewalks, drivers don't just simply stop when they see people waiting to cross, you have to actually start walking and pray that they stop.
Since we were in Rome over our Christmas vacation it was interesting to note the differences between the U.S and Italy and it was quite dramatic. I have not seen the commercialism and excessive materialism that seems to have permeated Christmas in the United States.  For Christmas Eve, we decided to go to Vatican City (World Heritage Site) which is actually its own country. We had to go through a metal detector and put our bags through an x-ray machine to enter both St. Peter's Basilica as well as the Vatican Museum and Sistine Chapel. As soon as I snapped the camera shutter to take a picture of the ceiling of the Sistine Chapel I got in trouble:( I didn't realize there was no photography (still or video ) allowed and the guard came over, questioned me and checked my ticket. He was very stern! The chapel is extremely crowded and they have guards wandering around making sure you are following the rules and shush'ing everyone. The chapel is extremely dark as well but the restoration work on the ceiling is amazing. When I was there over twenty years ago I remember the ceiling being much darker and the colors more muted.
Christmas Day was beautiful even though the forecast was for rain. It was a perfect day to go to St. Peter's Square and see the Pope give the "urbi et orbi" blessing. We were anticipating huge crowds but we were surprised at how close we were able to get, but even with my long lens it still seems he was far away. It was nice that they had huge screens throughout the square so everyone could get a good view of the Pope. That evening we took the hotel shuttle bus into the city and weren't really sure what to anticipate and whether we would even be able to find a place to eat, but the city was bustling and very busy especially in the touristy areas. We first stopped at the Pantheon and we headed over to the Piazza Navonna but when we got there the place was packed with a market and it was impossible to get pictures, so we headed over to the Trevi Fountain which of course was crowded as well but easier to get pictures.
The next day we awoke to a wet and rainy day and also noticeably colder. It's too bad we chose that day to travel outside the city and do some exploring at Ostia Antica, an archaeological site that rivals Pompei; it would have been much more enjoyable to explore the site had it not been raining, but it was an amazing site. By the time we got home my feet were so wet that I squished when I walked!
We wake to sunshine! Our plan was to head to St. Peter's Basilica and go to the top of the dome but plans quickly changed when we saw the crowds and the line to get in; all of a sudden Rome has been inundated with a lot more tourists. We instead headed over to the Castle Sant'Angelo and went to the top for some views of Rome and then walked around the city.
I was still recovering from a terrible cold and was exhausted so we spent one day just relaxing at the hotel. I wish our hotel had been closer to the city center, it would have made it easier to explore the city. We were in luck the day before we left as the dreary weather slowly improved and and we had a nice afternoon at the Musei Capitoline and a nice evening strolling around Rome. The galleries were amazing and many of them had these chandeliers which looked like they were made with Venetian glass from the island of Murano.
Our last day in Rome was a perfect day and we spent it checking out some places we had missed before including Piazza del Popolo and the Circo Massimo, which is where they used to have chariot races…the stadium actually held 250,000 people!  It was somewhat of a disappointment though as there weren't many ruins left.
We had an amazing time in Rome and it is well worth a trip.  Even though we were here during the off-season the crowds were incredible, especially after Christmas; I cannot imagine what the crowds must be like in the summer.  If you do plan a visit be prepared for the crowds and doing a lot of walking.  The Metro is great, but there are only two lines so much of the city isn't accessible by the Metro and it is also very crowded (watch your belongings!).  Also plan on wearing sturdy walking shoes, many of the walking areas are comprised of cobblestones so it is very uneven walking.   It always pays to learn some Italian phrases and we were surprised at how many people did not speak English compared to other European cities we've visited.   Watch out for the scammers trying to sell you stuff, they can be very aggressive, but most of all have fun and no matter where you look or go there is amazing history all around you!
Jen & Brendan {December 2009}
<