The Balkans
We arrived in Dubrovnik, Croatia (World Heritage Site) as the sun was setting over the Adriatic Sea and were awestruck with its beauty. After  4 flights and traveling for two days we were more than happy to settle into our hotel room at the Hilton and were pleasantly surprised that we had been upgraded to a room on the top floor with a huge balcony that overlooked the Adriatic and the Old City.  It was dinner time when we arrived, but we were way too tired to try to find a restaurant so we settled on eating in the lobby bar, but in our jet lagged stupor we didn't look at the wine prices. Needless to say our burger, salad and 2 glasses of wine ended up costing us over $80…ouch.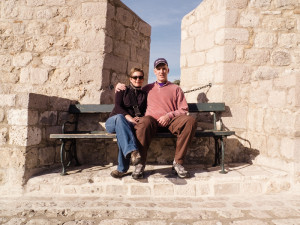 The next morning we decided to walk the walls which surround the old city. It was a great way to get an overview of the city with incredible views. This is one of the most popular tourist things to do in the city, but luckily we were here in the off-season so we had the walk almost all to ourselves. This walk can get extremely hot in the summer, but we had perfect weather while we were in Dubrovnik with the sun shining and temperatures in the mid-50's.
The first part of our trip was extremely stressful because back home we were having a terrible ice storm. Our Delta flight out of Bangor actually got cancelled the night before,and they rebooked us flying out of Portland the next morning, so luckily we made it out before the ice storm hit. Being halfway around the world and wondering if everyone is ok, whether we have electricity and if our house is ok can put a damper on a trip. Luckily we have a wonderful house sitter and a back-up generator, so even though we lost electricity for 3 days, we came home to not a lot of damage, although the layer of ice on my car took days to get off.
The Hilton is so close to the Old City that it made it easy to go back and relax whenever we needed a break. There are no cars in the Old City, so it reminded us a lot of Venice. It was fun to wander the narrow streets and never worry about getting lost, you would just find yourself at the Old City Wall to prevent you from wandering too far. We had a wonderful dinner at Oliva, a place we would return to when we came back to Dubrovnik at the end of our trip and our waiter even remembered us.
The second most popular tourist attraction is the Dubrovnik Cable Car ride to the top of the mountain, which provides amazing views of Dubrovnik, the Adriatic and the Dalmatian Islands. The original cable car was destroyed during the Balkan War in the early 90's and was just recently rebuilt. There is a restaurant at the top and we had planned to eat lunch there only to discover that because it was Christmas Eve most restaurants were closed. We were lucky to find a place to have dinner that night; we ended up at an Irish Pub that served a very limited menu. Wandering around the mountaintop we stumbled upon the Dubrovnik During the Homeland War (1991-1995) Museum which we would have missed if we hadn't been wandering around the old fort and looking at some of the remains of the war.  There were a lot of interesting pictures of the destruction caused by the war and it was amazing to see how much they have recovered and restored since then, which is not the case in Bosnia.
Brendan had received an email from Hertz asking if we could pick up our rental car a day early; we had been scheduled to pick it up Christmas Day, but apparently they were going to be closed. So we called the taxi driver who drove us from the airport. A kind, old man who gave us a great ride from the airport, even stopping at an overlook so I could get a picture of the sunset over Dubrovnik, was a completely different driver on the way back to the airport. Driving twice the speed limit along the narrow coastal road, I thought we might fly off as we sped along the curvy road; I was still shaking even after we got our rental car and drove back….slowly….the way we came.
We woke Christmas morning and were looking forward to driving to Mostar in Bosnia and Herzegovina (World Heritage Site). It was an overcast and dreary day, which for some reason seemed fitting for our visit. It took us almost 3 hours to get there even though our GPS indicated 2 hours. The roads are narrow, winding, and we saw at least 4 major accidents on our drive; all single car accidents with the cars in the strangest positions we have ever seen. One car was literally sitting on its back end sticking straight up in the air in a ditch. They must be crazier drivers than in Poland! Luckily there weren't many cars on the road, so the only issues we had was me swearing at the difficulty of driving in a foreign country and stalling the car numerous times, the most embarrassing was at a border crossing on a steep hill.  The land mine signs on the side of the road, made the drive that much more interesting as well!
We arrived in Mostar and realized we were going to need some Bosnian money to park. We somehow ended up driving on a pedestrian only street, me swearing again, we found an ATM and I went to go get some money. I went through the process of inputting my PIN and selecting the amount of money, and the ATM promptly displayed "could not complete transaction." Great, is my debit card not working, am I going to be able to get any more money this trip??  My debit card was fine, but I later discovered that even though I never got any money, the amount was still deducted from my bank account. When we returned home I called Bank of America and they reversed the deduction that day. Great customer service! Brendan ended up exchanging money in a bank and we found a parking lot near the Old City and the famous Stari Most Bridge. The Old City was not easy to walk around, the streets are made of rocks that are extremely hard on the feet, as well as slippery when wet…it was drizzling, and the bridge was treacherous to walk on. We were one of the few tourists there and when we first arrived a tour guide was following us around and harassing us, until we said we were going to find the police. The bombed out buildings throughout the city were really interesting and would have been fun to explore if they didn't have big "danger" signs posted on them.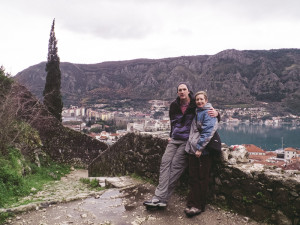 We woke the next morning to extremely stormy weather for our drive to the medieval town of Kotor (World Heritage Site) in Montenegro. The winds felt like a hurricane and at one point when I got out to take a picture I thought I might blow away. The drive was slow going but absolutely beautiful driving along the coast of the Adriatic and then around the Bay of Kotor. When we arrived we discovered that our hotel was actually inside the Old City, and since there is no driving in the Old City we had to park and then try to find our hotel. My smartphone really came handy at this point; I think we could have easily wandered in circles without it. The Old City is much like Dubrovnik but on a smaller scale and the city is fortified with walls that scale the cliff walls behind it. I really wanted to walk the walls, 1,355 steps to the top, unfortunately the weather didn't cooperate. Even though it had stopped raining and the wind had died down the next day, everything was still wet and slippery; we settled on walking part way up for beautiful views of Kotor and the bay. I wish we had longer to stay, the weather was clearing and I love wandering and exploring the streets with stray cats that seem to appear out of nowhere, but we need to leave for our next stop, Podgorica, the capital of Montenegro.
It was like stepping back in time to the Communist era. Montenegro is a new country and only became independent from Serbia in 2006, so it's understandable that it would still have that Communist look and feel. It actually reminded us a lot of Bucharest. We had originally planned to stay here for 2 nights but quickly came to the realization that there really isn't a lot to do in Podgorica so we changed our reservations and went back to Dubrovnik early. As we drove back through a different part of Bosnia we were struck by how beautiful the countryside is, we saw views that rivaled Yosemite.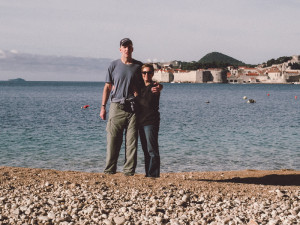 When we got back to Dubrovnik it was noticeably more crowded with tourists coming in for the New Year's Eve celebrations. We enjoyed our final stay in Dubrovnik by walking to St. Jakob, a hidden beach about 1.5 miles from our hotel that Rick Steve mentioned in his guidebook. With crystal clear, bright blue and turquoise water this is worth a trip to. Of course we had the place to ourselves, but in the summer I bet this place is popular. There is parking on the street, it is a steep walk down and the stairs are hidden behind a church, but if you can find it, I think it is worth the trip.
After climbing the stairs we wandered down the path a little ways and stumbled upon the Hotel Belvedere, which had been abandoned but the property was completely open. The hotel had been bombed during the Balkan War and then it was abandoned. The place is huge and the location is amazing so we were really surprised that the place had not been rebuilt. Apparently there are a lot of raves here, probably mostly in the summer, and I'm sure there are people squatting here. We didn't venture inside but if your the adventurous type and you're into exploring old, abandoned properties this place would be really cool.
We flew Croatia Air early in the morning from Dubrovnik to Zagreb and then to Amsterdam and arrived at noon. The first thing that struck us was the crowds. New Year's Eve is the next night and everyone is here to party and ring in the new year. It is quite noticeable the number of young people who are here in the city, hmmm, I wonder why?? Amsterdam has definitely changed since the last time I was here backpacking around Europe over 25 years ago. While marijuana was readily available back then I don't remember it being quite so blatantly out in the open and advertised, and as we walked down the streets the strong smell drifted out of the numerous coffee shops.
If you had a day and a half in Amsterdam what would be on your to do list? I really wanted to visit the Anne Frank House and Museum so I went online to buy tickets only to discover that they were sold out both days. The hotel concierge said you could still buy tickets at the museum so we decided to walk over. When we arrived we were shocked at the line, there must have been at least 200 people in line waiting to buy tickets! There is no way we were waiting in line so we decided just to walk around and explore the city. The crowds were overwhelming and made walking the major areas unenjoyable, but we found some quiet side streets to enjoy and had a lovely dinner at the Ristorante Savini right near our hotel.
We woke up to a typical winter day in Amsterdam, cold, rainy and dreary. The sun doesn't rise until 8:30, which is way too late for morning people like us, but we headed out to enjoy our last day. Today we are changing hotels and spending New Year's Eve at a hotel by the airport to make it easier for our morning flight tomorrow. We spend the morning in the city before taking the train to the airport, which is the best and cheapest way to get to and from the airport and downtown Amsterdam. Brendan wandered the streets enjoying the sights and canals while I went to the Rijks Museum, which was absolutely amazing! The main building of the museum has been closed for the past 10 years for a major renovation project and reopened this past April. When we arrived at the museum there was a line to get in as well as get tickets, but the 1st floor didn't seem too crowded. It wasn't until I went up to the 2nd floor and was shocked to see the crowd around The Night Watch by Rembrandt, it was almost like being in the Louvre and standing in front of the Mona Lisa. I wish I had more time to spend there, the museum should definitely be at the top of everyone's list to visit when they go to Amsterdam. Here's a fun flash mob recreation of The Night Watch: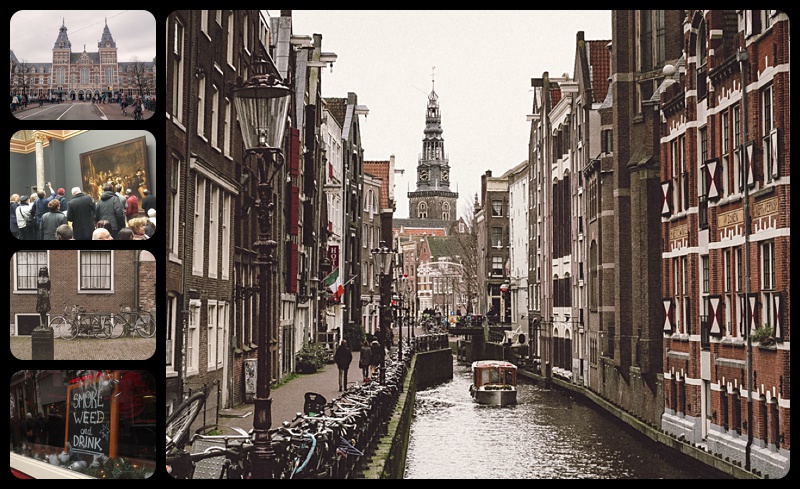 Overall we had a great trip and the Balkans are clearly a hidden gem, especially Dubrovnik. I've seen several Balkan cities listed as top 10 travel destinations in 2014, including Sarajevo, which I really wanted to go to but it was too far of a drive to include in our itinerary. Next time!
Happy Travels!
Jen & Brendan {December 2013}