Vienna
Vienna (World Heritage Site) is beautiful! We arrived after a very crowded Aer Lingus flight from Dublin where we were squished in like sardines. I've never been on a plane that had such little leg room. When my knees are hitting the seat in front of me, you know you are squished. Poor Brendan was so uncomfortable…his 6'6″ stature and long legs, make those flights unbearable.  We cashed in frequent flyer miles for this trip, which is why we had such poor seats.
We normally take a taxi from the airport to the hotel, but the dollar was so weak a taxi would have cost us almost $100, so we took the CAT train from the airport and then the underground to our hotel. It actually wasn't that bad, the CAT is a 15 minute train ride to Vienna Center and then it was 2 stops on the Underground. We were a little disoriented and tired when we came above ground and had a hard time figuring out which direction our hotel was, but someone was nice enough to show us the way. A short walk to our hotel where we checked in and slept most of the afternoon recovering from jet lag and had dinner at a nice little cafe right next to our hotel.
Vienna is one of the nicest European cities we've been to. The city is very bicycle and pedestrian friendly. The have a separate lane on sidewalks for bicycles and people seem to take advantage of this…you definitely have to look both ways before crossing a sidewalk! Pets seemed to be allowed everywhere and everyone was extremely friendly.
We woke on our first day to beautiful weather and decided to take advantage of it, since the weather forecast for the next two days is rain. Our hotel was not far from the inner circle of Vienna where most of the sites are so we spent the morning just wandering around the city. Vienna actually reminded us a lot of Prague, especially around the Stephansdom, which is a huge church in the center of town. There are lots of narrow cobblestone alleys with little cafes and shops in this area and we felt like we had stepped back in time.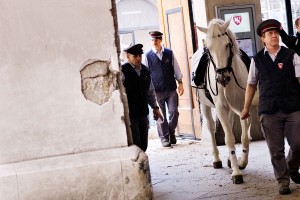 The weather forecast called for rain but we lucked out with two days in a row with gorgeous weather, which was awesome! Our plan was to go see the Lipizzaner Horses at the Spanish Riding School in the Hofburg Palace. Lipizzaner Horses are elegant white stallions that are born dark skinned but turn white between 4-10 years old. There weren't any shows, but we could go watch their morning exercises. All the way there I was thinking I really wish I had brought my 70-200 zoom lens on the trip (I rarely use it in my travel photography and it's very heavy, so I decided not to bring it), but as it turned out there was no photography allowed anyway. It actually ended up being a little boring, probably because Brendan and I know nothing about horses. We were hoping they were going to be practicing some of their routines, but they just seemed to ride around.
The day turned out so nice that we decided to walk around the Hofburg Palace and the gardens then over to the Neues Rathaus, which is basically city hall and then over to Votivkirche Cathedral, which ended up being closed. After lunch we planned on a tour of the Opera House and were patiently waited for the 3pm tour before we finally realized it was closed. So we walked over to Hundertwasserhaus, which is this really funky, multi-colored apartment building. It's quite a tourist attraction.
Access to the Internet at the hotel was quite expensive, almost $12 an hour. The Internet cafes were cheap, about $2.40 an hour. I'm sure this has changed a lot since this was over four years ago.
We finally made it to the Vienna Opera House for a tour and it was so crowded! It's one of the few places we've been that the crowds have been bad. I think the problem is they only have 2 tours a day (and not every day) and then they have multiple tours in different languages. We had a wonderful tour guide though and even though we are not opera fans it was very fascinating. The opera house was bombed during WWII, so the interior is not as old as the facade. They have over 60 productions a year and never the same production 2 nights in a row. Each day stagehands have to change the sets at least 3 times…they have to remove the set from the previous nights performance, put up a new set for a rehearsal and then take it down, and then put up the set for that night's performance. The schedule for the opera house is set for 4 years in advance and every night 98% of the opera is booked solid. Ticket prices range from 2 euros to 178 euros. The cheapest tickets are for standing room only and those seats are only sold the evening of the performance. The ticket prices don't change depending on which opera is being performed, but one evening a year is the Vienna Opera Ball where ticket prices are 9,000 euro and is sold out for the next 4 years! It was hard to get pictures because it was so crowded and it was very dark, but I managed to get a few.
The clouds finally rolled in and it became very dark with thunder and lightening all around us.  A cold front was coming through and it felt like the temperature dropped about 20 degrees. Luckily it didn't rain until we got back to the hotel. On our way back to the hotel we decided to stop in the Karlskirche Church. The church is actually undergoing some restoration work, so there was scaffolding inside and they had a temporary elevator set up that you could take to the top to get a closer view of the ceiling. We could have gone up higher, but the scaffolding felt like it was moving and we chickened out.
We walked to the Belvedere which is two palaces that have been converted into art museums with very ornate gardens. They were doing a lot of work on the gardens though, so they weren't too spectacular right now. I just love all the tulips around Vienna. Every time I walk by flowers I want to take pictures of them. I think it's because the winter has been so long and I've missed seeing colorful flowers. Vienna is a very green city, lots of trees everywhere!
Our final day in Vienna and it was absolutely gorgeous, we woke to a bright sunny sky with big puffy white clouds. We decided to take the underground out to Schonbrunn Palace and Gardens. The grounds were spectacular. Since it was such a beautiful day we decided to go to the zoo in the park instead of the palace. The zoo was much bigger than we expected and they had some beautiful animals.
We flew home through Dublin and actually got to spend the night in the city before connecting back to the United States.  I just love Ireland and would love to go back there someday!
Jen & Brendan {April 2008}