Yosemite National Park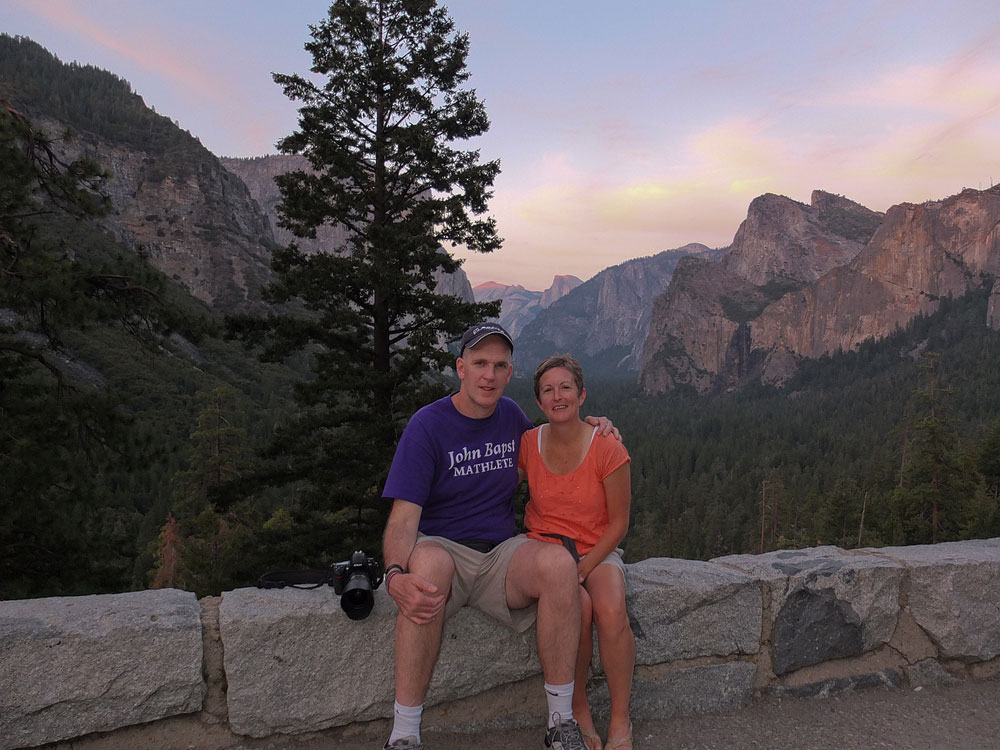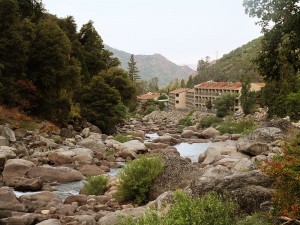 We arrived at Yosemite National Park (World Heritage Site) late on Monday night after Brendan's flight to San Francisco was delayed. We had hoped to arrive mid-afternoon so we would have time to actually go into the park and get some hiking ideas. Ahh, the joys of air travel! Our hotel was the Yosemite View Lodge and was an unexpected, but good, surprise. We didn't quite realize how big the hotel would be, but we had a great room right on the river, there were two restaurants right on site, a lounge, and several pools. The place looked like it was completely booked up. The strange thing was each morning we would leave early to go into the park and we would come back mid-afternoon and the place would be completely empty; then by late evening the place was packed again with an all new set of guests. I guess most people only come to the park for a day! The really great thing about the hotel was the location, only a mile outside the entrance to the park, so driving in to the valley didn't take too long.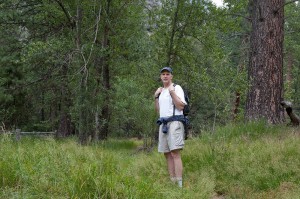 We only had 2.5 days in the park so we had to optimize our hikes. We thought it would be best to explore the valley the first day since that is the most popular place in the park and where all the major sites are like El Capitan, Yosemite Falls, Bridalveil Falls, Vernal Falls, just to name a few. We arrived early to make sure we could get a parking spot down in the village and went to the visitor center only to discover that it didn't open until 10. Bizarre that it opens so late! Luckily there was a ranger outside and we asked him a few questions about hiking in the valley and he was more than happy to help us. We hiked part of the Valley Loop Trail and ended up hiking about 7-8 miles around the valley floor. It was a pleasant hike although because the valley is so popular and the trail is somewhat close to the road, we constantly heard the sound of vehicles.
On our second day we drove up to Glacier Point and hiked the Panorama Trail to the junction of the Illilouette Falls Trail. This is an extremely steep trail down into the valley. If you take it all the way to the top of Nevada Falls, 5 miles away, you descend almost 2000′. But then you have to hike all that way back! While Yosemite has a free shuttle service down in the valley, there is no free shuttle service to take you back up to Glacier Point, although there is a fee-based shuttle. If you plan to do the hike round-trip, I would recommend starting the hike in the valley and going up first. That way if you get tired it is much easier to turn around and head back going down, rather than going up! It was so hot and dry and there is not a lot of shade on this trail, so we went through a ton of water even on the short (1.5 mile) section we were on. Glacier Point has a huge parking lot and even when we left it was still not full, but I would definitely recommend getting there early. There are restrooms, as well as a gift and snack shop, and the views are breathtaking! Well worth a stop even if you don't plan on hiking.
Our last day we had to drive back to San Francisco to catch our red-eye flight back to Maine, but we decided to do a short hike in the morning before we left. Most of the waterfalls were barely flowing and Yosemite Falls was non-existent, but Vernal and Nevada Falls were still spectacular (we could actually see them from Glacier Point). We decided to just hike to the bridge that crossed the Merced River and has a gorgeous view of the Vernal Falls. Even with our early start the trail was quite crowded, showing how popular this trail is. I could even spot people at the top of the falls, so they must have left much earlier than us. The trail is extremely steep and we passed a lot of people who were struggling.
Yosemite is one of the most popular parks in the National Parks system so if you plan on visiting make your reservations early. If you want to see the waterfalls at full force I would go in spring or early summer; I would love to see that!
Jen & Brendan {July 2013}